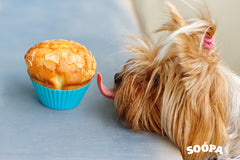 This recipe is grain free, natural and 100% delicious! You can make it using pureed pumpkin/carrot or some natural, sugar free, canned pumpkin.
Pumpkin is great for digestive health as it is an excellent source of fibre. It helps with diarrhoea and constipation. Fibre is also great for weight loss as it keeps your pet fuller for longer and adds some natural additional flavour to otherwise bland diet foods.
Pumpkin is also rich in nutrients such as fatty acids, antioxidants, vitamin A, beta carotene, potassium and iron, all which help contribute to cancer prevention. 
Ingredients:
1 x dessert spoon Flaxseed 
200g x gluten free flour 
225g of Pumpkin Puree (recipe here)
3 Tbsp Peanut Butter (optional)
½ Apple finely chopped
½ Tsp Baking Powder
Sliced almonds to decorate - optional
Method:
1) Preheat Oven to 180⁰C (350⁰F)
2) Mix all ingredients together until smooth
3) Grease or line a large muffin tin
4) Bake for about 20 minutes or until golden and a toothpick in the centre comes out clean
5) Cool on a rack for 5 mins before serving
READ MORE: 5 REASONS TO FEED YOUR DOG VEGETABLES