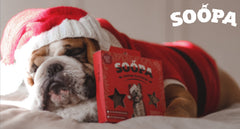 When it comes to choosing treats for our four-legged friend, the choices really can be rather overwhelming. From grain-free to meaty mouthfuls, our supermarket shelves are piled high with scrumptious snacks suitable for any canine companion. However, what makes Soopa stand out from the crowd is not just what we sell, but what we do too! 
Dedicated to improving the lives of furry friends across the world, our eco-friendly and sustainable production and manufacturing methods ensure that each and every single one of our tasty treats is packed with pawfuls of love and care meaning when you purchase a pack of our scrumptious snacks, you aren't just giving your dog a healthy boost but your helping to save the planet, one paw at a time. So with that being said, here's exactly why you should shop with Soopa this December. 
Happier & Healthier Pets
Made with nothing more than 100% human-grade, all-natural and wholesome ingredients, each bite of our tasty treats provides your pooch with a healthy dose of vitamins and minerals to keep their bodies in tip top shape. Free from meat, grains and any added nastiness, our plant-based snacks are suitable for any age, size or breed of furry friend and are low-fat (containing only 3 calories per healthy bite). 
Understanding how a dog's diet can impact their life, Soopa's founder, Barbara Hanly, worked tirelessly to create treats for her dog, Lily, after discovering that high street brands were leading to digestive issues time and time again. After pawfecting her plant-based recipes, Soopa was launched and the world began to see just how healthy and wholesome fruit and veggies could really be. 
Stuffed with the finest fruit and vegetables, both our dental sticks and healthy bites can help improve digestive issues, improve appearance of skin and coat and help maintain good oral health.
Eco-Warriors
Sourcing our ingredients from local and sustainable farmers ensures a product that not only tastes good but is good for the planet too. As the world becomes more conscious of its actions upon Planet Earth, we have made changes to ensure we are doing our bit to save Mother Nature too. 
Making our packaging recyclable, increasing bulk-buying options to reduce packaging waste and sourcing our fruit, vegetables and botanicals from local and sustainable suppliers ensures that every treat is both delicious for your dogs and doing it's part in helping to reduce our impact on the earth. 
More than just a Business
As the festive season begins, here at Soopa, we are more than just a business focused on driving sales. Dedicated to helping all those creatures small and furry, each month we work relentlessly to raise awareness for UK and Irish Dog Charities. Showcasing the dogs in their rehoming shelters on our Instagram Page, we hope to find these four-legged friends a permanent home this Winter.
Want to give a little more love this Christmas? Purchase a packet or two of our tasty treats and help change yours and other dog's lives in more ways than one.