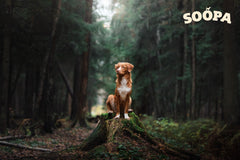 It is no surprise that there has been a recent surge in encouraging more eco-friendly living. With a global pandemic showcasing what epic changes have been made to the planet since so many of us have been locked down in our homes, we understand how just a small difference can make a huge difference to Mother Earth. 
As the world becomes more and more conscious about the planet, here at Soopa we pride ourselves on being a business dedicated to greener ways of working. From our plant based products to advocates of sustainable living, when it comes to making small steps to saving the planet, we are doing them one pawprint at a time.
Our Plant-Based Products
With rises in veganism across the globe, the benefits of plant based diets are astronomical beyond belief both for health and the environment. Reducing the carbon footprint (the effect responsible for climate change), increasing plant-based products ultimately has less impact on the environment than raising land animals needed for proteins of meat-based diets. Here at Soopa, you won't find meat in any single one of our products because we believe, when it comes to our pets, plants are best.
Our chews and treats only use the finest fruit and vegetables sourced right here in the UK meaning a more sustainable source of farming using the best of what our amazing isles have to offer. From scrumptious sweet potato to amazing apple, each and every one of our ingredients is specially selected for their brilliant benefits to our four-legged friends.
Eco Warriors
We couldn't profess the importance of sustainable living without ensuring our business does exactly the same - that's why you find a piece of Soopa packaging that isn't recyclable. From our healthy bites to delicious dental sticks, each and every packet of tasty treats is sent to your furry friends in packaging that can be recycled and great for the environment.
Strong believers of the war against single use packaging and plastics, our recyclable materials are great for the environment and the ideal way to showcase our range of tasty treats for our four-legged friends.
In addition to our sustainable sourcing of ingredients, we also ensure that the productions of our fruits and vegetables are done in a way that benefits the planet. Choosing to source our ingredients from small, local and independent farms ensures the best quality product for our furry friends but that methods are also used to ensure the most eco-friendly and sustainable way for the planet.
With acres of blissful beauty surrounding our business, we understand the importance of caring for Mother Nature. From recyclable packaging to plant-based products, we really are doing our best to ensure our planet lives on and is the best environment for all our creatures both great and small