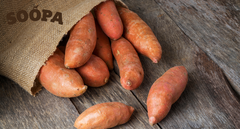 As one of the primary ingredients now used across grain-free pet food, sweet potato has taken the pet world by storm. Used as a sweet substitute for regular white potatoes, these orangey alternatives are a healthier, more wholesome and nutritious way of keeping your pooch fuller for longer. 
Alongside being added as a bulking agent in your dog's food, sweet potato is also a fantastic treat for your four-legged friend roasted, dehydrated and even as a topper to your pet's daily dinners. Packed full of nutrients and rich in beta-carotene to support your dog's immunity, here's why the sweet potato is the best treat for your dog.
Benefits of Sweet Potato for Dogs 
From supportive sensitive stomachs to immune support, sweet potatoes can pawvide your pooch with all the vitamins and minerals they need to keep them happy and healthy all day long. But what makes them greater than other veggies, is that they are a fantastic alternative to grains and white potatoes which can lead to sensitive stomachs in our furry friends. 
Great for Sensitivity/Allergies
As grains like rice and white potatoes are often used as cheap bulking agents, they can cause increased intense sensitivity leading to allergies and intolerances like itchy skin, bloating, loose stools and excessive weight gain. This problem has become increasingly common amongst our dogs in recent years leading pet food manufacturers to opt for grain-free alternative recipes when making our dog's food and treats.
Considered hypoallergenic for their decreased likelihood of causing allergies in pets. Sweet Potato is a super substitute for white potatoes as they are higher in protein and drive making them easier to digest supporting the stomach of sensitive dogs. 
Helps Support Digestion
Unlike regular white potatoes, sweet potatoes are rich in fibre that helps keep your dog's digestion regular and healthy. Fibre isn't fully absorbed into the bloodstream but helps to push bad bacteria out of the gut and collect in the form of stool. Adding sweet potato to your dog's diet can help cleanse their colons, keep bowel movements regular and help avoid gastrointestinal issues like constipation. 
Need your dog to lose a little weight? Foods high in fibre are a great way of supporting your dog's weight loss and helping to shed any excessive unnecessary fat. 
Great for Immune Support
Like carrots, sweet potatoes get their orange colouration from beta-carotene. Beta carotene converts into Vitamin A, the vitamin responsible for protecting your dog's immune system. Research has shown that dog's given added beta-carotene in their dogs had significantly higher levels of antibodies than other dogs giving them an added boost for their immunity against illness. 
With dogs exposed to a multitude of bugs and bacteria on a daily basis, keeping their bodies functioning as best we can is the greatest way of keeping them healthy all year round. 
Great source of Vitamins & Minerals
Just like us, our dogs need vitamins and minerals to keep their bodies as healthy as possible. Loaded with vitamins and minerals like B6, vitamin C, iron, calcium, potassium and magnesium, these can help keep their brain, eyes, muscles and joints healthier than they can be. 
Ultimately, when it comes to sweet potatoes, they really are one of the best treats to support the overall health and well-being of our dogs. 
How to give Sweet Potato to your dog
Unlike other vegetables, it is not advised to feed your dog raw sweet potato as it can lead to stomach issues in your pooch. 
Boil & Mash
One of the simplest ways of feeding sweet potato to your dog is to steam or boil then mash and use it as a topper on your dog's food. However, as butter and milk is often an addition to our brilliant British mash - keep it out of your dog's portion as butter and milk can add fat to your dog's diet that they definitely don't need. It is also important to keep their mashed potato free from any seasoning like salt. 
Top Tip! Mash sweet potato, combine with coconut flour, roll into balls and set in the fridge for one hour to get your dog a sweet and scrumptious snack. See the full recipe here
Roast
Roasted sweet potatoes are also a great treat for your four-legged friend. Preparing them without any added oil can be scrumptious snacks given your dog both a crispy and fluffy treat in one. Roasting helps preserve the sweet potatoes natural nutrients whilst naturally bringing out their sweetness. 
Simply peel, cut into easy, bite-sized cubes and roast on 200C for approximately 35 minutes until the skins have begun to crisp. Allow to completely cool before feeding to your pet. 
Dehydrated Chews
Ever noticed your dog go crazy when their chews come out? Crazy for anything chewy, making your own DIY crisps can be easier than you thought. As one of the best sweet potato recipes for your four-legged friend - dehydrated sweet potato is both a chewy and healthy treat for your pooch. Mash your sweet potato, lay on a baking sheet and bake for between 6-8 hours until moist and slightly stick. Slice and keep in an airtight container for maximum freshness.
Soopa Snacks
Want to treat your dog without any effort or fuss? Well, our range of sweet potato snacks are the best treats for your little furry friend. Naturally dried to lock in all that nutritional goodness, our sweet potato chews are one of the best and delicious dental sticks for your dog. Made with nothing more than human-grade sweet potato, these vegan, grain-free and low-fat chews are great at keeping teeth clean and fresh. 
Does your dog like a treat on-the-go? Our Cranberry and Sweet Potato Healthy Bites and Dental Sticks are low-calorie treats that your dog will love time and time again. Great for supporting weight management, dental health and immunity these scrumptious snacks are the best way of rewarding your canine companion.
How much Sweet Potato should I feed my dog?
Moderation is always key to ensuring your dog's diet is the healthiest it can be. As it contains high levels of fibre, giving too much sweet potato to your dog can lead to gastrointestinal upset such as excessive flatulence, looser and more frequent stools so it is always best to feed them small amounts rather than too much. 
It is recommended to feed small dogs, so any less than 10kg, no more than 1 teaspoon of sweet potato a day. When it comes to medium and large dogs, then 1 tablespoon of sweet potato is a sufficient amount to give them a nutritious boost to their regular diet. 
Treat your Dog to All Natural Sweet Potato Treats 
Healthy, wholesome and hypoallergenic, sweet potatoes are a great way of rewarding your four-legged friend. Suitable for puppies, adult and senior dogs, when it comes to vegetables, sweet potatoes are packed with pawfuls of scrumptious Soopapowers. 
From our natural sweet potato chews to our wholesome healthy bites, we have everything your dog needs to enjoy sweet potato without any worry or fuss. Natural, 100% grain-free and made with nothing more than natural ingredients and pawfuls of love, when trying sweet potato there is no better way then the soopa way.