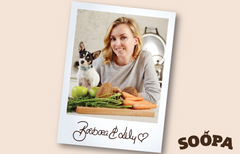 Our Soopa Business
With a near year underway and first month of 2022 now being labelled as Veganuary across the globe, we thought it best to showcase our achievements over the last few years and explain why we are the plant-based treat of choice for your favourite four-legged friends. 
Here at Soopa, we love nothing more than celebrating the success of independent retailers out there. Shopping locally and sustainably is the key focus for communities around the UK and ways in which we can do our bit to help the economy and even the planet. 
From just humble beginnings, with pet health and happiness at the forefront, we have become one of the leading plant-based dog treat businesses in the UK and we really couldn't be prouder. So, with that being said, here's why you should give your dog a Soopa treat today. 
Where it all began
Wanting to find treats that were healthy and nutritionally beneficial, Soopa's founder, Barbara Hanly scoured the country and web to find scrumptious snacks that were natural and nutritious for her dog Lily. 
Unable to locate any treats that Lily loved, Barbara set on her path to create her own range of treats made from fruit, veggies and botanicals that Lily loved and provided her with healthy support. After endless days and nights from her own kitchen, Barbara found the pawfect recipes and Soopa, as we know it was born. 
Best Plant-Based Treats
Now stocked in both independent and high-street chains, Soopa has become one of the best plant-based treats available on the market. Made with 100% human-grade fruit and vegetables, these treats have flown off supermarket shelves since their arrival back in 2013. 
Suiting pets of all ages, breeds and sizes, no matter what furry friend you have at home. There is definitely a Soopa treat for them. With over 2.5 million of their treats and dental sticks sold in the past 9 years, it is no wonder why Soopa has become the treat of choice for furry friends everywhere. 
Incredible Ingredients
What makes Soopa so special is the specially selected flavour combinations chosen specifically for their nutritional benefits and fabulous flavour. 
Banana & Peanut Butter - Our four-legged friends favourite treat flavour and packed with pawfuls of fibre to keep their digestion in tip top shape. 
Kale & Apple - Loaded with leafy greens for detoxing benefits keeping their liver and colons working exactly as they should.
Carrot & Pumpkin - These root veggie based treats are bursting with immune boosting Vitamin C to ward off nasty bugs and illnesses ensuring your pooch stays happy and healthy for longer.
Our Soopa Fans
We really wouldn't be the Soopa we are today with our incredible bunch of furry and human friends. With a fantastic following across our social media platforms and celebrity praises from beloved pet owners Vicky Patterson and Ella Mills, the proof really is in the pudding when it comes to why our treats really are the best plant-based snacks for dogs. 
So, with almost a decade of doggy loving under our belts, if you are a new addition to the Soopa Gang or have been with us since the beginning, we thank you because without you, we simply wouldn't be the Soopa business we are.