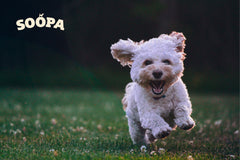 We have all heard the term "sustainability" thrown around in recent months in reference to our living habits upon the planet but what does "sustainable living" actually mean? 
According to the Oxford Dictionary, its definition states "an avoidance of the depletion of natural resources in order to maintain an ecological balance". Therefore suggesting we all take a little time to ensure we aren't removing what Mother Nature gave us leaving our Earth looking and living as beautiful as ever. As Greta Thunberg and her powerful message echoes throughout the globe, more and more of us are becoming environmentally aware of the impact we are having upon the planet….and slowly we are doing something about it. 
Being strong advocates of sustainable living for both us and our pets, here at Soopa we love nothing more than doing our bit to save the Earth...one paw print at a time. So with that being said, here's all the way you too can become just as sustainable with your canine companion by your side. 
Shop Sustainably
It may seem like the obvious step towards a greener way of life but shopping sustainably can provide more benefits to your lifestyle than you might think. When it comes to food and treats for your four-legged friend, we know only the best will do so, why settle for products that provide no benefits for your pooch or the planet? 
Whether it's dog's dinner or a selection of scrumptious snacks, shopping with brands that have sourced their ingredients in sustainable methods ensures your pooch is getting the best quality available and you are doing your bit to help keep the Earth's resources as plentiful as ever. 
Recycle or Reuse
As more and more businesses opt for eco-friendly packaging across their food and treats, it has never been easier to recycle the packaging of your dog's food and treats. Here at Soopa, all our packaging is 100% recyclable saying goodbye to pointless and earth-harming single-use plastics. Recycling your dog's food and treat boxes ensures less excessive waste goes to landfill taking years upon years to degrade into the earth's soil. If more and more of us just recycled that little bit extra, we could all change the planet, one cardboard box at a time. 
In addition to recycling and the strong cut down on single-use plastics like plastic drinking bottles, investing in products that your pets can reuse time and time again is an ideal way to make a small change to save the world. As the weather warms, our pets are left craving that cool and refreshing taste of H20 on walks and adventures. Instead of wasting resources on water bottles every time you venture out, invest in a reusable bottle to take out every time you go on walkies. 
Opt for a Plant-Based Diet
Free from any meat-based ingredients, each and every single one of our healthy bites and dental chews contain nothing but the finest, human-grade fruit and vegetables to ensure our four-legged friends get all the vitamins and minerals they need for a long and healthy life. 
Plant-based diets are becoming increasingly popular amongst dog owners due to the recent rise in intolerances and allergies towards proteins such as chicken and beef. Despite being natural carnivores, our pets can thrive on a plant-based diet given that the diet is properly managed and your dog gains all the nutrients they need to thrive. 
With veganism and vegetarianism on the rise amongst humans, many of us are opting for a plant-based diet due to the strain on natural resources farming can have. As raising livestock increases CO2 emissions, the world is beginning to see that producing meat isn't as tasty for the Earth as it used to be. So, switching your furry friend to Mother Nature's own ingredients, may prove to be beneficial to both them and the Earth they live on. 
With no definitive way of how we can save our pawfect planet from harm, we all need to do our bit to ensure our Earth lives on and we do our bit to help all creatures great and small.