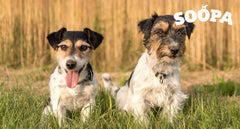 Since their rising popularity in the early 2000s, it would be possible to ignore the grain-free or free-from-grain labels plastered across dog food and treats in pet shops both in-store and online. But what does grain-free really mean? 
Grain-free labels inform the consumer that food or treats are absent of any white grains such as barley, wheat or rice which are often used in regular pet food as filling agents alongside meat, vegetables and botanicals to keep our dogs fuller for longer. However, as we become more aware of what we are putting into both our own and our pets bodies, some claim that grain-free diets can be more beneficial to our dogs. 
Helping to clear any grey areas around the debate between grain and grain-free foods for our dogs, this article explores what grains are, the pros and cons of both diets and how the choice is up to you about what diet you choose to feed your four-legged friend. 
Grains & Their Digestibility
Understanding grains and their usage helps us to make an informed decision about what diet is best for our dog. Popular amongst many dog owners, grain diets are easy to find and cheaper than their grain-free alternatives. 
When looking at any grain dog food on supermarkets shelves or pet food stores, you may expect to find the following on your dog's dietary labels:
Wheat

Rice 

Oats

Corn

Barley

Soy 
According to Dr Kurt Venator, a leading Veterinary Officer at Purina, grains are "an excellent nutritional source" helping to provide carbohydrates needed for energy. They also contain essential amino acids for muscle maintenance and sources of fibre for digestion. 
However, their digestibility has longed been questioned and with pet owners finding incidents of gastrointestinal upset after prolonged exposure forcing many to turn to grain-free alternatives in their pet's food and even treats.
What Does Grain-Free Really Mean?
Grain-free foods and treats refer to recipes that are completely absent of ingredients such as rice, barley, wheat, or even white potatoes. These foods or treats look the same as your dog's regular food or treats and it would be impossible to notice the visual difference between a kibble that doesn't contain grain over one that does. 
During 2007, the pet industry took a massive hit as a mountain of food recalls occurred from some leading pet food companies who produced their pet food in China. It was found that these specific foods were causing severe health issues to our pets and people started taking a microscope to what was exactly in our pet's food and treats. 
Research conducted by Shirish Ghimire in 2018, an analytical business consultant, suggested that since the shift to more organic and natural approaches to pet food shopping, more than 53% of new pet food launched is labelled grain-free. 
So, why are we going so crazy for grain-free diets for our dogs? 
The Benefits of Grain-Free Diets for Our Dogs
Digestibility and support for digestive health is one of the main reasons pet owners are selecting grain-free diets for their pets. Since the dawn of time, dogs have long been carnivorous munching on meat and bones to support their overall health and wellbeing. However, since the domestication of these mammals, grains were introduced into dog food as a way of filling up tummies like ingredients such as pasta, potatoes and rice do for ourselves. 
For some dogs, prolonged exposure to specific grains can lead to intolerances causing symptoms such as:
Itchy skin 

Flaky and sore skin 

Excessive flatulence

Loose or watery stools
It didn't take long for the pet food industry to realise the gap in the market and before we knew it…grain-free recipes were born. 
Grain-free recipes often uses legumes or root vegetables as fillers for their food instead of grains that are often found undigestible for intolerant dogs. Squash and sweet potato being amongst the top choices for brands across the UK – providing extra vitamin and mineral support whilst keeping bellies fuller for longer and itchy skin and tummy troubles blissfully at bay. 
Health Risks of Grain & Grain-Free Food
Despite the benefits of both grained and grain-free diets, both have setbacks and have had health risks associated with them over the years. It is important to mention that health risks are not evident in every dog that eats a grain or grain-free diet but identified in animals were their diet is a factor therefore we always recommend consulting veterinary advice on when deciding to make any decisions regarding your pet's daily diet. 
Health Risks of Grains
One of the main factors around grain diets is the exposure to allergens it poses. Just like us humans, dogs can become intolerant and even allergic to specific grains, like wheat, in their food leading to sore skills and gastrointestinal upset. As gluten-free food has stormed the human retail market in the recent years, we have taken the same cautious approach to grains to our pets' food as our own. 
Evidence concluded by research from Mueller et al (2016) on common allergies found in domestic pets, 13% of reactions were caused by wheat leading to sensitive skin and stomach upset. If your dog is suffering from constant itchy skin, despite regular flea treatment, issues such as excessive bloating or flatulence, it is highly likely wheat is to blame so discuss grain-free alternatives with your vet to support your dog's health and wellbeing. 
Health Risks of Grain-Free Diets
Despite the boom in popularity in recent years, grain-free diets have also been the topic of debate around health risks they pose after prolonged consumption. In the last few years, Veterinary studies in the US found a link between heart disease, particularly Dilated Cardiomyopathy, and grain-free diets. Clinics and research facilities began to see multiple breeds of dogs suffering from the illness with the common link of diets absence of carbohydrates. 
It is believed that breeds with DCM were also deficient of taurine – an amino acid vital for supporting a dog's overall health which legumes like peas and lentils (key ingredients in grain-free diets) prevent from taurine efficiently absorbing in the body. 
However, our dog's health and wellbeing is influenced by a variety of factors. One specific ingredient that may affect one may have no influence on another so it is vital to shop with your own dog's nutritional needs in mind and not what is the latest trend on the supermarket shelf.
Tips for Selecting the Best Food Options for Your Dog
When choosing the best food for your dog, reading the label is the sure way to understand what is really in your dog's diet. For active or working dogs, opt for a food with an 80% to 20% protein to vegetable ratio to ensure they get all the protein support they need for muscle, joint and heart health. 
For senior dogs, ingredients that are low GI and low-in-fat are excellent choices for the less active pooch in your home. You may find grain-free diets more suited to your senior dog as they are more hypoallergenic helping to keep skin soft, itch free and kinder on digestion. 
Have a fresh pair of paws in your home? Choosing the right food for your puppy is essential for healthy growth. Choose recipes that are high in protein and rich in nutritional content to give your pup all the support their need as the develop into adulthood. 
Variety in your Dog's Diet
Could you imagine eating the same meal twice a day for the rest of your life? Well, for some dogs this is a reality. We recommend nothing more than varying your dog's formulas (not too often) to give them extra nutritional support throughout their life. 
Topping your dog's crunchy kibble is a fantastic way of providing extra flavour and natural goodness. Adding superfoods like root vegetables, leafy greens and berries can be a super way of supplementing their diet with added Beta-Carotene, Vitamin C and Potassium supporting immune, digestive, skin & coat, eye and brain health. 
Seeking Veterinary Support 
If you notice any changes in your dog's diet such as:
Increased or diminished appetite

Vomiting or diarrhoea straight after food

Excessive bloating or flatulence
We recommend speaking to your vet who can even suggest specific formulated diets to support your dog's health. It is vital to never ignore changes in your dog's eating habits as they can indicate serious health issues. 
Giving Grain-Free a Go
Wanting to reduce the number of grains in your dogs diet but unsure how? Well, starting with their treats is a sure-fire way of helping to support a healthier and happy tummy. Here at Soopa, all our healthy bites, dental sticks and natural chews are made with human-grade ingredients, low-fat and completely grain-free making them pawfectly suitable for hypoallergenic dogs.
Made with wholesome natural fruits and vegetables, their specifically designed recipe was created with hypoallergenic dogs in mind. Sold in a variety of fabulous flavours, if grain-free treats are what you are looking for, look no further than Soopa's range of glorious grain-free snacks – the ideal way of supporting your dog's transition to grain-free diet or for those looking for a healthier alternative to regular treats and chews.