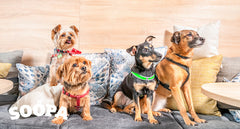 As we all grow that little more conscious about what we can do to help protect the planet, here at Soopa we want to show that just one little change can help support the planet, your purse and even your pooch too.
Being a plant-based and earth-admiring brand, there is really nothing more we love than encouraging our customers (human and furry) to take small steps to make the Earth a better place for us all to live. So with regular discounts and savings when purchasing our treats and chews in bulk-buy amounts, you can provide your pooch with all that planty goodness whilst helping minimise the cost of packaging and shipping when stocking up on our range of Soopa snacks.
Go Greener
Helping to cut down the cost and carbon footprint of regular shipping, bulk buying your dog's treats will not only provide them with plenty of pawfulls of plant perfection but it can also help cut down waste and CO2 emissions too. With costs and effects involved every time we make purchases both instore and online, bulk-buying your treats at Soopa can help cut down the materials used to post items packaged individually and help reduce CO2 created by regular and frequent postal services. Adding a little extra to your dog's treats jar will ensure they have a regular supply of wholesome goodness and will make that little change with a whole lot of difference to our planet Earth.
Save those Pennies
We can all agree that there really is nothing better than buying something amazing but knowing you're saving yourself a few extra pennies. Here at Soopa, we understand the importance of staying healthy without the need to break the bank. Offering discounts and savings on multipacks and larger orders of our chews and treats, you can supply your pooch with a supply of snacks whilst saving yourself a few pounds in the process.
From multipacks of our fans favourites to flavour bundles, your dog will be spoilt for choice with the selection of scrumptious snacks we have to offer. Available in larger pack sizes so your pooch can enjoy their nutritious and delicious taste for longer, your four-legged friend won't wait to see what flavours their treat jar will hold with our tasty treats with a difference.
Bag Yourself a Treat
Whether it's amazing adventures out or simple trips to the supermarket, we often find ourselves hurling around a mass array of belongings for our furry friends. Here at Soopa, we love making life as easy and enjoyable as ever for your and your canine companions so when you spend £50 or more on our wholesome and healthy bites and chews, you can bag yourself one of our branded Jute Bags to help transport your dog's favourite things whenever you're out and about.
This high-quality and easily wipeable jute bag, is a pawfect alternative for those plastic bags for life we all have lying within the cupboards. Made with renewable and biodegradable jute, this stylish and sturdy bag is everything you and your pooch needs to haul around a few of their favourite things.