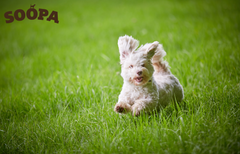 With the festive period well and truly over, we cast our minds to the year ahead setting resolutions we dream to keep to. Hoping for happier and healthier bodies, if there is one lifestyle change you can most definitely stick to in 2022, it is making more plant-based choices to suit you and your four-legged friend. 
As advocates of the benefits of plant-based treats for pets, here at Soopa, there is nothing we love singing about more than just how brilliant your five-a-day can be. Beneficial to supporting a healthy body and mind, if there is one health kick you and your pooch choose this year, make it a plant-based one. 
What is a Plant-Based Diet?
Exactly as it says on the tin, a plant-based diet contains only ingredients found from the garden of Mother Nature. Free from any meat-sourced products, plant-based (or vegan) diets have taken the world by storm over the recent years and have become the lifestyle choice for millions across the globe. 
As omnivores (an animal that can survive on both animal and plant matter), our dogs are able to gain nutrition equally from both meat and plant-based sources such as fruit and vegetables. As proteins contain larger amounts of energy sources to suit dogs with higher energy needs, meat-based diets have long been recommended for our furry friends. 
However, with recent developments into the true benefits of plant-based consumption in our pets, more and more of us are choosing to feed our pets the best of what Mother Nature's garden has to offer. 
Is a Plant-Based Diet Good for Our Pets?
Like any lifestyle choice, a healthy and balanced diet is the most beneficial to support your body's overall health and wellbeing. Including more plant-based sustenance in your pet's diet can drastically improve their body's regular functions keeping them happy and healthier for as long as they live. 
Plant-Based Living can help:
Improve your dog's immune system - Root vegetables such as carrots, pumpkin and butternut squash are massively high in beta carotene and Vitamin C - great for keeping unwanted illnesses and bugs at bay.
Maintain a healthy gut - Leafy greens such as kale and spinach are loaded with vitamins that help support your dog's natural digestive system. A plant-based diet can help regulate bowel movements, control flatulence and even keep those poops from smelling so stinky! 
Increase energy levels - As we all know, there is nothing better for our bodies than fruit and vegetables. Bursting with healthy calories to keep our energy levels boosted and maintained, a little extra of their 5-a-day can help keep your pooch as active and healthy as ever. 
Best Plant-Based Treats
When it comes to plant-based treats, there really is none as Soopa as ours. Packed with 100 human-grade fruit and vegetables, our range of healthy and wholesome bites and chews are the pawfect treat for any size, age or breed of four-legged friend. 
Containing the finest ingredients without any added nastiness, our scrumptious selection of snacks are the plant-based treat your pooch has been dying to get their paws on. With a fantastic range of flavours to choose from, your dog will definitely be spoilt for choice of what plant-based treat to pick in their delicious new doggy diet.
Shop the range here.