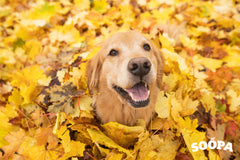 As the days and nights grow darker and the leaves turn brown, many of us ponder what adventures to seek with our four-legged friends. As days on the beach comes steadily to a close and the need for hats and scarves are now more real than ever, planning the pawfect trip may seem harder than before.
However, come rain or shine, and no matter what the season brings, having fun with your furry friend can be just as enjoyable as it was when the summer sunshine was beaming overhead. With National Trust locations and woodland walks more beautiful and blissful with the awesome of autumn, grabbing your canine companion and stepping on those crunchy leaves has never seemed more pawfect.
Here at Soopa, we love spending quality time with our dogs and understand the importance of walkies. With exercise, even in the colder months, harder to manage, here's some ways you can enjoy some autumnal adventures with your four-legged friend.
Woodland Walks
Crunchy leaves and pawfect paths, taking a walk on the wild side has never been more appealing than in the month of autumn. Showcasing the beauty of the surrounding of golden trees, these spacious and remote activities are ideal for dogs who prefer a quieter and calmer retreat.
With the National Trust home to dog-friendly woodland escapes for you and your furry friend, there really is no time like the present to go down to the wood today and find yourself a big surprise.
Pumpkin Picking
As Halloween fast approaches, Pumpkin farms crop up all the way around our British Isles. Allowing the ideal family day out, choosing your own pumpkin has never been more fun than with your four-legged friend in tow. With many farms, allowing dogs onto their grounds and pumpkins being just as beneficial to dogs as to ourselves, this is a family day out, everyone can love and enjoy. 
Glorious Gardens
Is there really a better way to spend your day than being surrounded by beautiful flora and fauna? As autumn hosts the blooming of plants such as dahlias, begonias and crocuses, taking your pooch on a glorious garden gander can be a trip to remember.
Like many of their woodland walks, the National Trust and English Heritage offer a range of garden dog-friendly walks suitable for you and your canine companion. With tea rooms on site, there is no better way to enjoy the beauty of this superb season than gazing upon our country's botany whilst relaxing with a cake and tea.
So as the nights grow colder and days grow shorter, make the most of our autumnal air by taking your four-legged friend on an adventure they most definitely will remember. For more information on the benefits of feeding your dog pumpkin click here 🎃