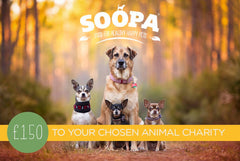 Here at Soopa we're always proud to stand behind those that support animal welfare. The world is full of dedicated and passionate people who give their time, effort and resources to making the lives of animals that little bit better.

We've been lucky over the years to meet some of these people, and their love for what they do always inspires us!

In December we ran a competition on social media - we asked our followers to nominate an animal charity that's close to their heart, and if selected, that charity would receive a cash donation. There were 3 equal prizes of £150 on offer.

The response was instant - hundreds of comments were left, all nominating deserving hardworking charities.

It was encouraging and heart-warming to see all the love and support on display.

The three lucky winners were:

NANA Animal Rescue
GalwaySPCA
Valgrays Border Collie and Animal Rescue

If you took part, we'd like to extend our sincere thanks for your support, for rasing awareness of these amazing organisations, and for showing the world how much the work these charities do mean!

We plan on doing this again very soon, so make sure you keep an eye on our social media, there's plenty of more animal charities that would like your support.