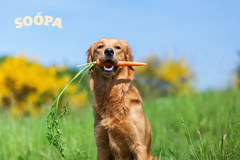 When it comes to quintessentially healthy ingredients, there are none-quite as important as the root vegetable. Grown in fields and gardens up and down the British Isles, packed in stews, stuffed in curries and accompanying our Sunday roasts, there is no vegetable as wholesome, healthy or as blissfully beneficial as those we pull from the ground.
From carrots to sweet potatoes, pumpkins to butternut squash, here at Soopa, we understand just how vital these veggies can be in both our diets and the diets of our four-legged friends. Pawviding a whole heap of benefits to their minds and bodies, here why we love our root vegetables and why our scrumptious snacks are loaded with them in heaps and heaps.
Epic for Eyes
We have all heard the phrase "carrots can help you see in the dark". Although they won't give your dog's superhero eye sight, adding a few of these orange characters to your dog's daily diet can have a significant impact on their eyes later in life. Packed with Vitamin A, this vital veggie can help keep your dog's eye health in tip top shape ensuring their pawfect peepers are fit and healthy.
Ignite their Immunity
Helping to keep infections and illness at bay, root vegetables are loaded with magical minerals and vitamins to ensure your dog's immune system is in tip top shape. Exposed to bacteria on a daily basis when rolling and running around in the great outdoors, our dogs are vulnerable to all sorts of germs and bugs. Supplementing your dog's diet with anti-oxidant laden foods such as root vegetables in particular carrots, pumpkins and sweet potatoes can help keep illness at bay and help you to maintain your dog's overall health and wellbeing.
Filling Power
If there is one diet we stand firmly behind – it is a grain-free one. With the likes of complex carbohydrates such as white potato, rice and barley causing skin and coat problems in our furry friends, more and more of us are looking for alternative diets for our dogs. Packed with heaps and heaps of filling power, we are proud to be one of the many retailers to be choosing to substitute harsh grains with root vegetables to give your pooch a tasty and filling treat without any of the nasty consequences. Providing your pooch with fuller and healthier meals and treats ensures weight is managed and less likelihood of overeating leading to obesity and cardiovascular problems.
With a ravishing range of root vegetable based treats to choose from such as our Carrot & Pumpkin Healthy Bites and Chews and our Cranberry & Sweet Potato chews and bites, when it comes to natural ingredients, we love using exactly what Mother Nature intended.