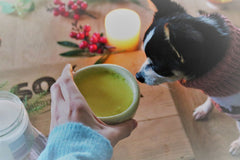 During these dark winter months nothing picks me up better than a warming turmeric latte and lately Lily has started begging me to try some so I created a special dog only recipe below!  Turmeric has loads of excellent health benefits for dogs including; incredible anti inflammatory properties (especially great for dogs with arthritis) helps aids digestion and can even help prevent cancer! A true superstar ingredients for your dog to enjoy x 
Ingredients
1 x Cup Oat Milk (or dairy free alternative)
½ Teaspoon Coconut Oil
Pinch of Turmeric
Directions
🎅 Place ingredients in a saucepan and heat gently.
🎅 Let cool and serve! (You can also stored in fridge for up to 3 days )
🎅 Feeding guidelines: small dog: 3 x desert spoons, medium dog: 1/6 cup, large dog: 1/4 cup
* Dogs that are prone to kidney stones should not be given turmeric since it increases urinary oxalate levels. Also, some dogs are sensitive to turmeric and develop stomach upset. If this happens, it maybe that you're giving too much or perhaps your dog is simply sensitive to the herb when added directly to their food.
For more easy to make and delicious homemade dog treat recipes please check out our website here https://soopapets.com/blogs/homemade-dog-food-recipes 😋