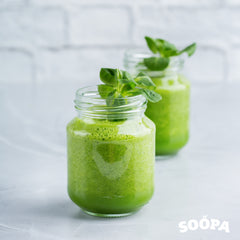 We have created this Soopa Doopa Puree Recipe for your dog for you to try out. It has No additives, is grain and gluten free and packed full of goodness. It is also so easy to make and use! Just add to meat, fish or kibble to give your pet the most nutritious dinner possible! It has a wonderful texture, so it is great for fussy eaters.
You can add coconut oil, flaxseed oil, kelp, turmeric, calcium powder or any added supplementation as required by your pets diet.
Kale is packed full of potassium, vitamins A, C, K and B vitamins all which help heart health. The high fibre and water content helps prevent constipation and promotes a healthy digestive tract.
Spinach is low in fat and cholesterol, and high in niacin, zinc, fibre and vitamins A, C, E and K, thiamin, vitamin B6, folate, calcium, iron, magnesium, phosphorus, potassium, copper, and manganese.
Zucchini/courgette has a high content of omega-3 fatty acids, zinc, niacin, vitamin B1, vitamin B6, vitamin B2, and calcium.
Ingredients:
Equal measures of:
Courgette (Zucchini)
Spinach
Kale
Method:
1) Simply cut veggies into small chunks and then blend in a food processor.
2) Store in an airtight container in the fridge for up to 3 days. This can also be frozen for up to 6 months.
3) Mix into Kibble or meat or fish and serve.