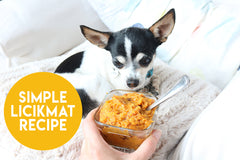 Our doggie customers LOVE our Cranberry and Sweet Potato Dental sticks so much we decided to create a Lickimat recipe based on these flavours.
This delicious recipe is super easy to make and healthy too!
(Can be used in Kongs too or added to food for extra yumminess)

Ingredients:
1 x large sweet potato
1 x tablespoon dried cranberries
1 x teaspoon flax/chia seed
1 x teaspoon coconut oil


Method:
Chop sweet potato with skins on and steam/boil over medium heat until tender.
(Approximately 10-15 minutes)

Drain sweet potato and let cool.

Blend sweet potato and other ingredients in food processor (if you don't have food
processor then you can use potato masher).

Simply spread onto Lickimat, or stuff into Kong and watch those tail wags GO!