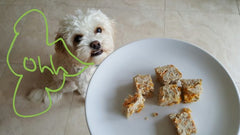 When I'm in a hurry, this recipe is great because it's simple to make and it's a completely balanced meal. You can cook this or if you feed raw then simply leave in the fridge to set. Cut into portions and freeze or chill for up to 3 days. Grab a portion from the freezer if you're in a hurry and need a dog meal on the go.
I've included sardines as they are a great source of natural calcium and rich in omega 3, DHA and EPA which health support brain health. Oats are a tasty source of fibre and great for your dog's digestion. I buy the gluten free oat variety which are gentler on doggie's tummy.
I've used grated butternut squash as it's Lily's favourite but feel free to add your dog's preferred grated vegetables. I love the benefits of natural kelp powder but you can add whatever supplements you like to the mix before cooking.
Ingredients:
500g turkey mince
1 cup gluten free oats
1 organic egg
1 tablespoon melted coconut oil
1 cup grated butternut squash
1 tablespoon organic kelp powder
Method:
Preheat oven to 180°c
Simply combine all ingredients in a mixing bowl and pour into a loaf tin lined with baking paper.
Leave to cook for 35 minutes
Once cooled slice into portions
Chill in the fridge to use right away or freeze.
The post Quick & Easy Doggie Dinner appeared first on Soopa Pets.