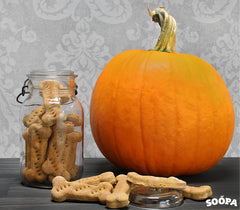 For more on the Pawsome benefits of Flaxseed(linseed) Click Here.
Want an easy and fun recipe for Soopa Tasty Treats? Look no further than our Soopa Foods Dog Treats. This makes a large batch, so you can have the ingredients to make less. It is also totally customisable swap out the flax seed oil for coconut oil and the wheat flour for whole potato flour for a treat your dog will totally enjoy!
Ingredients
450g Pumpkin Puree
45g Oats
2 tablespoons flax seeds or flaxseed powder
1 tablespoon raw honey
½ tbsp Flaxseed oil/fish oil/coconut oil
360g whole wheat flour/gluten free rice flour or any flour alternative
Instructions
1.Preheat the oven to 180 degrees C (350F). Line a baking sheet.
2.Add the oats, flax seeds, and flour to a mixing bowl and combine.
3. Add the puree, honey and your chosen oil to the dry ingredients and mix thoroughly. If it is not sticking together, you can add some water, a tablespoon at a time, until you get a thick dough that holds together without being too sticky.
4. Use your hands to knead the dough a few times to make sure all the ingredients are incorporated.
5. Turn the dough out onto a lightly floured work surface and roll it out to ¼ inch thickness. Use a cookie cutter to cut out biscuits or freestyle and make your own shapes. Place them on the lined baking sheet.
6. Bake for about 30 minutes or until the biscuits are golden and hard.
7. Let cool completely and keep stored in an airtight container. Will keep for several days.