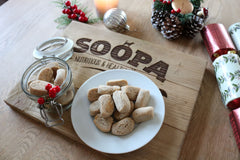 This scrumptious cookie recipe is super easy to make for you dog and totally delicious. This recipe is great for doggies with sensitive tummies and don't worry if you don't have oat milk you can use any dairy free alternatives. We've added chai seeds to this recipe because they help promote a healthy coat and great for digestion. These treats make excellent Christmas presents so feel free to made extra to give your doggie loving friends too!
Ingredients
2 x Cups Rice Flour
1 x Cup Oat Milk
2 x Desert Spoon Coconut Oil
2 x Desert Spoon Peanut Butter (Xylitol Free)
1 x dessert spoon chai seeds
Directions
🐶 Preheat oven to 180c
🐶 Melt coconut oil gently and combine well with rest of ingredients in a bowl.
🐶 Knead dough ball and create a long roll on floured surface and cut into cookie pieces (roll out large or small depending on size of cookies you want)
🐶 Bake for 10/15 minutes on a baking sheet until golden brown.
🐶 Cool before serving and store in an airtight container.  
For more yummy and easy to make homemade dog treat recipes check out our website here https://soopapets.com/blogs/homemade-dog-food-recipes 😋