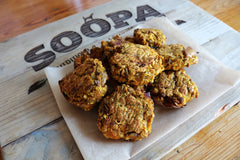 Butternut squash is a pawsome vegetables; it has such a natural delicious flavour and soft, tender texture when baked which dogs absolutely LOVE! Butternut squash is also very anti-inflammatory thanks to its abundance in antioxidants. Loaded with fibre it also helps with digestion so fantastic for dogs with sensitive tummies. These simple to make patties are excellent to feed on their own or simply add to your doggie's dinner for an extra nutritional boost.
Ingredients
1/2 cup dry green lentils
1 1/2 cups water
2/3 cup oats
1 x butternut squash
1 tablespoon coconut oil melted
1 dessert spoon cup nutritional yeast
1 cup chopped spinach
Method
Bring water to the boil, add lentils and simmer for 30 minutes until the lentils are soft and have absorbed all the water.
Meanwhile heat the oven to 180c.
Carefully cut butternut squash in half lengthwise brush the entire surface of the squash with melted coconut oil.
Roast for 40 minutes until the flesh is soft and cooked through.
Allow to cool then scoop the seeds out and dispose.
Mash the soft flesh and chop up skin into small pieces (the skin holds lots of important nutrients!!)
Combine in a large bowl the lentils, mashed quash, remaining coconut oil, nutritional yeast, oats and spinach.
Form the mixture into small balls and then pat down to make patties.
Place on a baking sheet and bake for 30 minutes, turning halfway through.
Allow to cool and serve!
Storage in fridge for up to 4 days or freeze for months.