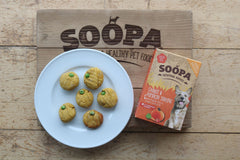 It's that time of year again and we are delighted to share this scrumptious DIY Halloween dog treat recipe with you and your pawsome pooches. Did you know pumpkin is a fabulous superfood and a real Soopa star! It's incredibly rich in antioxidants, vitamins, minerals and fibre helping to aid digestion and coconut oil is a superfood rich in MCT's which studies have found help boost your dog's brain power. Our taste tester Lily went crazy for these treats and it makes me feel good to know I'm giving her something healthy as well as delicious. Happy baking🍪!
Ingredients:
Brown rice flour (or alternative grain free flour but rice flour works best)
1 dessert spoon Coconut oil
2 x pouches Soopa Pumpkin Toppings (or 2 x baby food sachets)
Frozen peas to decorate
Method:
Preheat oven to 180C
Add toppings to bowl and mix in coconut oil
Add the rice flour in small batches at a time until mixture makes a firm dough
If dough is too wet add more flour and if too firm add a little water.
Hand roll into small balls and gently flatten with a fork
Finish the pumpkin treat by placing a frozen pea on the top of each treat.
Bake for 15 minutes then allow to cool.
Storage: You can store these in an air tight container for 1 week and for more delicious homemade dog food recipes and treats click here