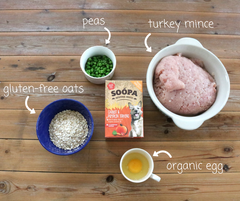 Homemade Dog Food – Mutt Loaf
Howlooo Soopa Friends.
I'm back in the kitchen cooking up nutritious homemade dog food dinners for Lily. This homemade dog food recipe is a fun and easy way to make sure that your dog is getting a nutritious and delicious dinner, one that would be fit for a hooooman!
This Muttloaf is so easy to make, so versatile, and best of all totally nutritious and tasty!! This yummy recipe was chosen based on its yummy ingredients which you can read more about on our blog.
You can have fun with this recipe and add in some nutritious surprises to the middle of the Mutt Loaf.
Chop and change the ingredients based on your pet's tastes and diet, but most of all, enjoy! x
Have a Soopa Day!!
– Barbara & Lily
Ingredients:
Method:
Preheat the oven to 180°C (350°F).
Combine the organic oats, peas, egg and Soopa Carrot & Pumpkin Nutritional Booster in a large mixing bowl and mix together.
Add the turkey mince and mix thoroughly  – Get stuck in 

hoooman

!! Use your hand works best! Your pooch will notice the difference.
Pour the delicious mixture into a loaf tin lined with baking paper.
Leave to cook for 35 minutes.
Remove from the heat and allow the homemade muttloaf to cool.
Finally, garnish with parsley and serve.
These can be sliced up in portions and served. They can also be frozen.

The post Homemade Dog Food Mutt Loaf appeared first on Soopa Pets.