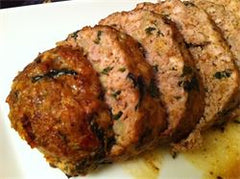 This dinner loaf style is easy, chock full of vegetable goodness and smells
delicious baking! It makes between 6 and 20 portions and can be stored in the freezer for up to six weeks.
You can swap out the pasta, rice, oats and flour for a grain free alternative, and chop and chance the quantities depending on your pets tastes.
Ingredients:
185g of uncooked rice (white or brown)
100g uncooked pasta (wholemeal or plain)
90g of uncooked rolled oats
4 medium eggs
185g of wholemeal flour
1 ½ tsp Calcium Carbonate
1 average potato
75g uncooked chopped sweet potato
15g grated carrot
120g uncooked chopped pumpkin
225g spinach
500g uncooked chicken with skin and 100g chicken liver
or
450g Beef mince plus 100g liver
or
400g Fish plus 2tbsp of olive oil
Method:
1) Preheat the oven to 180 degrees Celsius.
2) Cook rice in boiling water
3) Add potato, sweet potato, pumpkin, and pasta and cook for 15 mins more.
4) Add remaining ingredients, choosing the chicken, beef, or fish
5) The mixture should be moist but firm – add more oats if needed.
6) Place mixture in oiled loaf tin and bake for up to 1 hour.
7) Remove the loaf from the tin and place back in the oven for another 10-15 mins until set
Depending on your dogs' requirements the loaf can be divided into:
6 slices of 500 calories each
10 slices of 300 calories each
20 slices of 150 calories each
This recipe provides 25% energy from protein, 35% from fat and 39% from carbohydrate.
Reference:
The Pet Lovers Guide to Natural Healing for Cats and Dogs. Dr Barbara Fougere.
dogvacay.com
The post Doggie Dinner Loaf – Chicken, Beef or Fish appeared first on Soopa Pets.