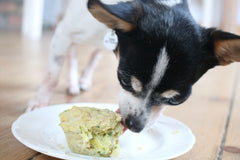 Lily and her doggie friends go nuts over these healthy grain free muffins and it feels good knowing they are getting lots of important nutrients. I love adding cranberries for Christmas because they have many powerful health benefits and are packed with anti-oxidants, fibre and Vitamin C which research shows may be beneficial for dental health, bad breath and immune support. Cranberry is also excellent for dogs who are prone to urinary tract infections.

This recipe can be made either using small muffin cases or a 12-hole muffin tin and slice once cool.  
Ingredients:
• 500g minced chicken 
• 1 cup porridge oats 
• 1 cup grated carrot (or preferred veggie)
• ½ cup dried cranberries
• Coconut oil for greasing

Directions

⛄ Preheat oven to 180°c (fan 160°c)

⛄ Combine all ingredients in a mixing bowl

⛄ Either fill small muffin cases with a teaspoon of the mixture or grease a 12-hole muffin tin with the coconut oil and with a desert spoon fill each hole.

⛄Leave to bake for 15/20 minutes until the tops of the muffins turn a golden brown and muffin easily pops out.

⛄ Once cooled slice muffins into portions or remove from paper chasing.

Place in a storage container and keep for up to one week or freeze for up to two months.
For more easy to make and delicious dog food recipes check out https://soopapets.com/blogs/homemade-dog-food-recipes 😜