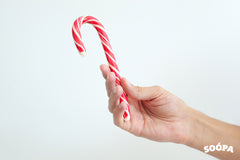 Love the look of candy canes but hate raw hide! Want to include
your dog in the holiday fun? Then try this fun recipe to make some safe to eat candy cane cookies for your dog this Christmas!
 Ingredients:
375 gram all purpose flour 
1/2 tsp baking powder
235ml warm water
1 chicken or beef bouillon cube
2 large eggs
2 tsp red or green natural food coloring
Method:
1) Preheat your oven to 180°C.
2) Mix the flour and baking powder together in a bowl.
3) In a separate bowl, mix the warm water and the bouillon cube until dissolved
4) Whisk the two eggs and add to the bouillon mixture.
5) Slowly pour the wet ingredients into the dry ingredients stir until combined.
6) Kneed into a dough. If it is too sticky add some more flour.
7) Separate the dough in half and set half aside. With the other half, form a small well in the dough and add the food colouring, one drop at a time. Kneed the dough until it turns a nice red color. Adding more food colouring if needed. (gloves are highly recommended!)
8) Divide each dough ball into smaller, about 1 tablespoon in size, and roll one of each colour into long strands.
9) Twist together one white strip with one red strip and curl the end into a candy cane shape.
10) Repeat until all the dough is used up. Place these on some parchment paper on a baking sheet. Brush on some egg wash and bake in the oven for 10 – 12 minutes.
11) Allow to cool completely on a wire rack.
12) Serve and Enjoy!