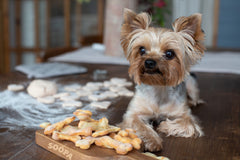 Lily and her cousin Lolo adore this recipe and always get excitement when they smell these baking in the oven. I literally have them sleeping by my feet waiting in anticipation! Calcium is Soopa important for healthy bones and teeth and we've created this yummy treat recipe so you can be sure your dog is getting all the calcium they need. A delicious dog treat that's healthy too hurrah!
Ingredients:
1 ½ cups brown rice flour
3 tablespoons good quality almond or peanut butter
3 organic eggs
1 tablespoons flaxseed mixed with 3 tablespoons water
½ cup coconut oil
1 cup sweet potato or butternut squash puree
3 tablespoons of powdered organic egg shell (this is a fantastic way to make a natural calcium supplement for your dog. Simply place empty egg shells in boiling water to clean and allow to dry over night then place in processor and blend into fine power, simple!)

Method:
Preheat oven to 180°c
Combine all ingredients in a mixing bowl eventually forming a dough
Take some of the dough and roll between two sheets of parchment paper
Gently use your cookie cutter to shape and cut out your treats (I find using a larger shape and less intricate cutter works best)
Place the dough shapes onto a lined backing tray and cook for 15-18 minutes in batches
Let cool completely before serving to tail wagging poochie!