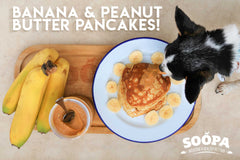 This recipe is SOOPA easy and includes only three ingredients.
So good you will want to share them with your dog!
Ingredients
1 x ripe Banana
2 x Eggs
Peanut Butter for serving
Method
1) Mash banana with a fork.
2) Beat eggs and add to banana mixture combining well.
3) Heat frying pan over medium heat and add 1 x teaspoon of coconut oil for frying.
4) Pour 1 x tablespoon of mixture onto frying pan and cook on each side until golden. brown.
Allow cool and serve with some delicious peanut butter on top! YUM!
Have you tried our Banana and Peanut Butter Dental Sticks?