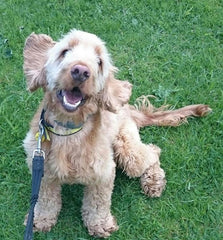 This weeks dog of the week is cute Cooper.
Cooper is a stunning looking 2 year old English Cocker Spaniel boy who cannot wait to find his forever home! His favourite activity is to go on a long walk to new places, where he can explore interesting smells. Cooper is a big foodie which is great news as this makes him a dream dog to train because he is always ready to work for food. Cooper has brains to burn and already knows a few commands like sit, stay, fetch and find!
Cooper gets anxious around dogs and he wants to be the centre of attention so for this reason, he would be the happiest boy in the world if he is the only king of the castle! At the moment we feel that a single person home will be best to give Cooper the 1:1 attention he truly deserves to fulfil his real potential.
Cooper is an energetic boy with brains and beauty to boot! He will thrive in a home with lots of activities to keep his brain busy.
If you have room in your heart for Cooper, then please contact Dogs Trust on 01 879 1000.