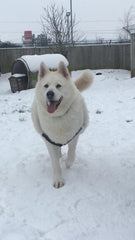 This week is beautiful Benji.
Soopa Treats have teamed up with Dogs Trust to help find homes for lost and abandoned dogs. Benji is a handsome and laid back 9 year old Alaskan Malamute who has quickly stolen the hearts of all the canine carers who look after him. He is a real couch potato, and loves to snuggle into you and lap up lots of attention.
Benji is a cuddle monster who loves his belly being rubbed and his coat being brushed. He came to us after living with his previous family for a few years, so he is used to living in a home environment and he should settle into his new home with no problems.
Benji is such a sweetheart and very gentle so he should be happy living with very young children. Benji loves attention from his humans so much, that he would prefer to be the only dog in the family so that he can have your undivided attention. Benji is a very good boy who will make a wonderful addition to most families.