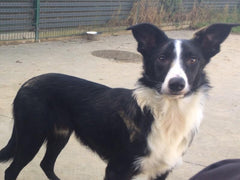 Wyatt is a wonderful 1 year old male Collie who has his whole life ahead of him. When Wyatt first arrived at the Centre he was quite scared, so it took him a long time to trust his carers. Our experienced team have been working on his confidence and now we can safely say that all the effort paid off and Wyatt is finally ready to start a new chapter of his life. Wyatt is still very sensitive and it will take him time to relax in different environments, but he is making steady progress every day. Wyatt relies on and learns so much from other happy and confident dogs, so he will need to have another dog in his future home.
This sensitive sole will need patient and committed owners who are going to give him the time and space he needs to blossom. Wyatt could potentially live with gentle teenagers who have lived with shy and anxious dogs in the past and know that not every dog enjoys cuddles and boisterous play. Wyatt is a sweet boy who really hopes he will finally find a home he can call his own.
If you have room in your heart for Wyatt, then please contact Dogs Trust on 01 879 1000. They are based in Finglas, just off exit 5 on the M50.