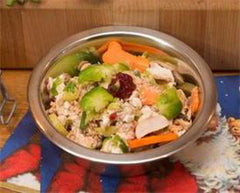 Looking for a Soopa Tasty, nutritious and balanced meal you can feed your pet for breakfast lunch and dinner? Check out this yummy recipe we found over at damndelicious.net. You can substitute the rice for a grain free alternative if you like. and sprinkle over some calcium powder, omega 3 oil or ACV to make sure your pet is getting what they need.
This recipe is tasty, balanced and Soopa easy to make, and, you can even share it with your pooch!

Enjoy, x.
INGREDIENTS:
1 1/2 cups brown rice/ grain free alternative (460g)

1 tablespoon olive oil
3 pounds turkey mince (1300g)
3 cups baby spinach, chopped (675g)
2 carrots, shredded
1 courgette shredded
1/2 cup peas, canned or frozen (75g)
DIRECTIONS:
In a large saucepan of 3 cups water(700ml), cook rice according to package instructions; set aside.
Heat olive oil in a large pot over medium heat. Add turkey mince and cook until browned, about 3-5 minutes, making sure to crumble the turkey as it cooks.
Stir in spinach, carrots, courgette, peas and brown rice until the spinach has wilted and the mixture is heated through, about 3-5 minutes.
Let cool completely.
This recipe has a balance of 50% protein, 25% veggies and 25% grains, but the ratios can easily be adjusted to suit your pup's breed and/or needs. This recipe makes a large batch that can be frozen. To use again, simple defrost in a fridge overnight and reheat in a microwave for 20-30 seconds before serving.
Please consult your veterinarian before making sudden changes to your pet's diet.
More on Calcium Powder: Here
More on ACV: Here
More on Peas: Here
Recipe Adapted from damndelicious.net
The post Balanced Dinner Recipe – Turkey, Rice and Vegetables appeared first on Soopa Pets.