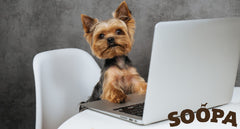 For many of us, the recent pandemic brought the opportunity for us to spend a little more quality time with our four-legged friends. Being forced to pack up our offices and do our daily routines from our very own homes, our dogs have been blessed with a little more TLC in our working weeks. Unable to understand that sometimes time together isn't always playtime, our playful pups have struggled to keep boredom at bay whilst Mum or Dad is hard at work. 
Here at Soopa, we understand the trials and tribulations of working at home with our canine companions. From attention seeking behaviours to moans and cries during the day, the team here at Soopa has experienced it all when it comes to working from home with their dogs. So for those of you who may have found a job or still out of the office, here's our glorious guide to keeping both and you pooch happy whilst being home during your 9-5. 
Take a Break
Although it may seem like an obvious idea, many of us working from home neglect the need to be away from our devices during our working day. Relishing those lunches and breaks from our desks, having the same approach at home can do wonders for your health and wellbeing for you and your pet. Using your lunch time to play ball with your pooch or a quick stroll down the road can give yourself a cognitive rest for long periods of time at a screen and ensure your furry friend is well exercised and stimulated mentally. 
Keep a Routine
Whether it's a regular coffee break or set meal times, keeping a routine for both you and your dog will avoid attention seeking behaviours such as barking or pawing during busy periods in your day. Setting specific times for meals and regularly sticking to them will also help strengthen the bond between you and your pet as they will learn the time allocated is where you both can enjoy a meal together without any distractions. 
Invest in Long-Lasting Chews
We have all had that meeting where our four-legged friend has either jumped up on us or barked to gain our attention. Often wanting to tell us they are hungry, investing in tasty and long-lasting chews can be beneficial to behaviour, their teeth and provide stimulating fun whilst your hard at work. Creating dental chews with a difference, our fruit-based chews such as Sweet Potato, Coconut and Papaya are all-natural, wholesome and nutritional alternatives to meat-based chews often laden with artificial flavours and preservatives. 
Made with 100% fruit and vegetables, these delightful dental chews are long-lasting meaning it's a pawfect boredom buster when their hooman is stuck in that ever-so-long meeting or call. Packed with pawfulls of vitamin and minerals to help support your dog's immune system and oral health, when it comes to delicious dental sticks, these really are something Soopa. 
So as summer draws to an unfortunate close and working from home becomes a new-reality, follow our hands hints to ensure both you and your dog make the most out of being at home that little bit more than ever before.