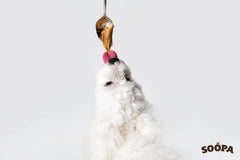 We all know how much our dogs adore peanut butter. From filled treats to stuffing it in toys, our dogs go wild for this scrumptious spread. When given in moderation, peanut butter can pack pawfulls of protein for our four-legged friend and giving them a treat that is nutritious, healthy and wholesome. Featuring in our best-selling dental sticks, we believe this scrumptious spread is SOOPA beyond belief and here's why your furry friend should have a nudge towards this nutty novelty.
Benefits of Peanut Butter
Full to the brim with nutty goodness, Peanut Butter is an excellent source of healthy protein for your furry friend. Containing healthy fats such as Vitamin B, Niacin and Vitamin E, this nutty delight is not only exceptionally tasty but can provide some fantastic nutrition for your dog too! Some amazing health benefits of introducing Peanut Butter to your dog's diet include improved skin & coat appearance; maintenance of healthy weight and cholesterol and healthy heart and liver function.
However, like every treat given to your furry friend, we recommend a healthy balance. Too much of a good thing even for us humans can have adverse effects. Like any nut based product, Peanut Butter can often contain high levels of fats that can contribute to obesity and weight problems if over indulged so we recommend peanut butter to be used as a treat on occasion to see the benefits of this nutritious nut.
Watch for Xylitol
As adorers of this tasty treat ensuring your pet's safety when selecting peanut butter from supermarket shelves is incredibly important. When choosing to give your furry friend a taste of Peanut Butter, select a spread that is unsalted and as not been made with Xylitol as it can be seriously dangerous to your pet.
Xylitol is a sugar substitute often found in sugar-free products like chewing gum it is safe for us humans, but toxic to dogs. Keep an eye out for this ingredient in ANY peanut buttery treat.
Our Peanutty Treat
There really is no better combination than Banana and Peanut Butter. A firm favourite of canines around the world, this delicious duo can be found in treats no matter where you go. What makes our SOOPA dental sticks stand out from the crowd is that they are created from natural, wholesome and human grade ingredients meaning they are completely nastiness free and 100% safe for your pets.
As one of our best-selling products, our banana and peanut butter dental sticks are an ideal treat whilst providing benefits for our dog's oral health making them both tasty and useful in your dog's daily diet and routine. Loaded with 100% xylitol and palm free peanut butter and blissful banana, these dental sticks will get your dog's tail wagging time and time again.