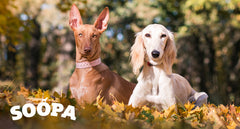 Autumn is here, and it's the best time of the year for all the dog lovers out there. It's the perfect time to take your furry friends out for long walks, play fetch in the park, and cuddle with them on chilly evenings. But, as the temperature drops, it's essential to make sure your dog is taken care of, and what better way to do that than with some delicious Soopa organic dog treats? In this blog, we'll discuss why Soopa organic dog treats are a must-have for cosy autumn evenings.
Health Benefits: Soopa dog treats are made up of high-quality and natural ingredients, which means they provide a lot of health benefits for your furry friend. These treats provide your dog with essential vitamins and minerals that help them stay strong and healthy. They are also beneficial for dogs with allergies or sensitive stomachs, as they do not contain any artificial preservatives or chemicals that can harm their digestive system.
Better Digestion: When it comes to your dog's diet, it's crucial to choose the right type of food. Organic dog treats are easy on your dog's digestive system, and they provide them with the right amount of nutrients, which helps with the digestion process. They also contain high levels of fibre, which helps maintain a healthy weight and keeps your furry friend feeling full and satisfied.
Delicious Flavours: Soopa dog treats come in a wide range of flavours that will make your furry friend happy and excited. From Banana & Peanut Butter to Apple & Blueberry and even Carrot & Pumpkin, there's something for every dog out there. These treats not only taste great, but they are also very satisfying and keep your dog busy for a more extended period, making them a great addition to your cosy autumn evenings.
Improved Energy: As the colder weather sets in, it's essential to make sure your dog has enough energy to play and stay active. Soopa dog treats contain high-quality proteins and carbohydrates that help keep your furry friend energised and active during their playtime. They also help maintain your dog's overall well-being and assist them in fighting off any seasonal illnesses.
High in Nutrients: Soopa dog treats are high in nutrients such as antioxidants, vitamins, and minerals, which are essential for your furry friend's immune system. The natural ingredients present in these treats can help fight off diseases and help your dog maintain their overall well-being. They are great for dogs of all ages, especially elderly dogs who need a little more support in their later years.
It's important to remember that your furry friend deserves the best, especially during the colder months. Organic dog treats are a must-have during cosy autumn evenings, as they provide numerous health benefits to your furry friend. These treats not only taste great but are also packed with essential nutrients that assist in keeping your dog healthy and happy. So, the next time you're planning a cosy evening with your furry friend, make sure to have some organic dog treats in hand!