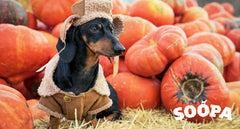 After its ingenious use in a certain world-wide brand's spiced latte, pumpkin and its brilliant versatility, has truly taken the world by storm.
Synonymous with American Thanksgiving celebrations, pumpkin has long been used in both a sweet and savoury context for centuries but did you know this vibrant veggie is great for our furry friends too?
Supporting their immune system, digestive health and weight management, pumpkin is becoming one of the go-to ingredients stuffed into our dog's food and treats. Understanding just how Soopa this squash can be, we even put it into our own range of healthy bites and chews. 
Don't believe us? The proof is in the pumpkin so read ahead and find out for yourself how truly tasty and beneficial pumpkin can be for your four-legged friend. 
Benefits of Pumpkin for Dogs
Cooked, raw and even pureed forms of pumpkin all have both nutritional and physical benefits for our four legged friend. From improved immunity to better digestion, here's four fabulous reasons why pumpkin is the best treat for your canine companion. 
Best for Digestion
High in soluble fibre (the type of fibre that both humans and dogs digest completely) pumpkins are a great way of keeping your canine's colon working exactly as it should. When soluble fibre passes through your dog's digestive system it feeds the good bacteria helping to fight diseases such as obesity and even diabetes. 
As soluble fibre helps to reduce looser and watery stools - adding pumpkin to your dog's diet is perfect for dogs with sensitive stomachs or food allergies who may suffer from loose stools from time to time. 
Best for Skin & Coat Support
Is there really anything better than when your dog's coat is looking lush and shiny? Packed with pawfuls of Vitamin E, the vitamin responsible for maintaining soft and supple skin, pumpkin is the best treat to give to dogs to maintain a healthy-looking coat and fur. 
Giving your dog raw, cooked, pureed pumpkin and also pumpkin seeds contain a healthy amount of Vitamin E that can help support your dog's ability to reduce skin irritations such as itchiness and even help repel pesky parasites like mites from feasting on your dog's soft and sensitive skin. 
Best for Weight Loss
We all know how much our dogs love food so for dogs out there that are susceptible to weight gain - adding pumpkin is a fantastic treat as it is low in fat at just 18 calories per portion making it a tasty treat without any worry of piling on extra pounds. 
In addition, its high soluble fibre content means it can help reduce weight gain as soluble fibre actually interferes with the absorption of dietary fat. As the fibre passes through the digestive tract it takes with it the fats normally stored in your dog's body (responsible for weight gain) and releases it within your dog's poop. The less dietary fat their body stores the less likelihood of weight gain and chances of developing obesity.
Best for Immunity
With the weather growing a little colder as we approach the autumnal winds, the chances of colds and coughs grow more likely in our furry friends. Adding pumpkin to your dog's diet provides their bodies with heaps of vitamins that support their body's natural defences. 
Pumpkin is also high in Vitamin A and C which help increase white blood cell production aiding the immune system in fighting illness, reducing infections and even helping wounds heal faster. Like carrots, pumpkin is high in beta-carotene which turns into Vitamin A so mixing both carrots and pumpkin into your dog's daily diet can help increase your dog's immune system more than ever.
So, with a plethora of brilliant benefits for your canine companion. Pumpkin really is the best way to ensure your dog's skin, teeth, digestion and heart stay in the best condition pawsible each and every day. 
Canned Pumpkin or Fresh Pumpkin
Unlike regular vegetables, like carrots, peas and sweetcorn, canned pumpkin contains pumpkin in pureed form rather than in its natural state (pretty sure would be hard to find a tin big enough). 
Despite its pureed texture, canned pumpkin is a mess-free and easy alternative if you wish to top your dog's wet or dry kibble with this incredible ingredient. Canned pumpkin still holds its nutritional value therefore nothing but texture is altered if you wish to use the canned alternative. 
Wanting to give your pooch a dental chew with a difference? Raw pumpkin is a fantastic way to help keep your dog's teeth and gums clean as strips of pumpkin, like their orange and carroty counterpart, can help massage your dog's gum line helping to keep nasty plaque and tartar at bay.
Down to individual preference, both canned and raw options are great ways to treat your dog to a pawful of pumpkin.
How much Pumpkin Should I Feed my Dog
As pumpkin is high in fibre, too much can lead to an upset stomach and potential diarrhoea so 
feeding small amounts at first can give your dog the best benefits this veggie has to offer. 
In terms of canned pumpkin, it is recommended that no more than 1 tablespoon for large breeds per day and for smaller dogs 1-2 teaspoons per day. For raw pumpkin, this can be increased to 2 tablespoons for larger dogs and 3 teaspoons for smaller breeds. 
If you wish to give your dog a piece of pumpkin as a dental chew, between 50-90g in weight, the nutritional value is an amazingly low 18 calories, making raw pumpkin pawfect treat for your furry friend.
Are Pumpkin Seeds Good for Dogs?
In addition to pumpkin flesh, pumpkin seeds are also another fantastic treat for your dog. Packed with pawfuls of nutritional benefits, these Soopa seeds can also help prevent illnesses such as urinary infections and cancers in your four-legged friends. 
However, when it comes to pumpkin seeds, preparation is key. Pumpkin seeds must be thoroughly washed and then roasted before giving to your dog. Although not toxic if your dog consumes them straight out a pumpkin, it is always best to prepare them before feeding. 
Grinding down pumpkin seeds into powders is a common way people feed the seeds to their pets as this makes the seeds more easily digestible and less likely to cause an upset tummy if overfed. 
Feed your furry friend no more than ¼ teaspoon of pumpkin seeds per day to ensure they receive the maximum benefits of this tasty and nutritionally dense soopafood snack.
What Types of Pumpkin Can My Dog Eat?
All pumpkins, including the famous Halloween Jack O Lanterns, are from the squash family and can be found in most supermarkets and greengrocers. However, when it comes to pumpkins the most suitable for our furry friend - avoid the carving pumpkins most displayed around Halloween time as these pumpkins are specifically grown for carving and not their taste or nutritional value. 
Throughout the autumnal months, you will find a selection of pumpkins (or squashes) next to Butternut squashes, in a variety of colours such as green, orange and even white. These are the pumpkins that your dog will enjoy the most and will have the best benefits of their canine bodily functions. 
Top Tip! White pumpkins (or ghost pumpkins) are a doggy favourite for flavour and can also make fantastic decorations around your home. Once you have finished carving, feed the flesh and seeds to your furry friend this Halloween.
Treat your Dog to Pumpkin Treats 
When it comes to our veggies, there really is no soopastar quite like the pumpkin. Both healthy and wholesome, this versatile veggie is the best natural supplement to add to your dog's diet. Whether your dog might prefer it raw, cooked or even through their scrumptious seeds - your dog is guaranteed to want to try this tasty treat in their daily doggy dinners.
Our Soopa Treats
Want to try pumpkin in a simple and scrumptious way? Our range of carrot and pumpkin treats contain 100% human-grade pumpkin and carrot combined with natural coconut oil to support your dog's skin, eyes and immune health. Low in fat, completely vegan and suitable for dogs above 6 months old, these tasty treats will ensure your dog gets the best amount of pumpkin in a simple, stress-free and scrumptious way.