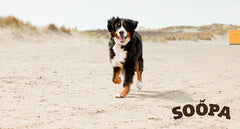 With warmed weather on the horizon and more than a few bank holidays lined up in upcoming months, there's no better time to grab your four-legged friend and head off into the great outdoors.
As we all know, travelling with your furry friend can be a challenging task but as always we're on hand to make your summer adventures as stress-free as possible to ensure you and your canine companion have everything you need to make your holiday away better than ever before. 
What to Pack For Your Furry Friend
From calming sprays to tasty treats, loading up on your dog's essentials can ensure you have the best holiday pawsible. 
For handy hints of what to pack for any trip away, see below our top five faves to take away for your four-legged friend. 
Their Favourite Toy/Chew
For many dogs, the anxiety of travelling can be all too overwhelming. Providing them with their trusted teddy or calming chew can help work towards alleviating any anxiety or stress that might occur when cruising in the car. 
Their Best Blanket
When planning any long-distance car ride with your pet, comfort is key. Loading up the back of the car with your dog's safe space and providing a plush blanket for comfort can minimise your dog's discomfort and ensure they enjoy the car journey just as much as you. 
Their Tasty Treats
As some dogs really do despise travelling for long distances in a car, rewarding your pup on entry and a stopgap can help ensure you are rewarding positive behaviour.
To combine the calmness of chewing with a low-fat and light treat that is kind on tummies, invest in our range of dental sticks that can provide your pooch with a scrumptious snack whilst on the road.
Our tasty treats are 100% healthy, and wholesome and can help alleviate that stress through chewing and chomping through our combination of fruit and veggie goodness. 
Water is Vital
No matter how far you might travel, keeping water for your dog is essential! As temperatures rise during the summer months, cars can become increasingly hot as it can increase the likelihood of heatstroke in our pets. 
Be sure to keep your pooch hydrated at all times keeping them healthy and happy throughout the whole journey. 
Don't leave their Lead
Taking your dog's lead (and harness) is a fundamental factor for any holiday away. Even if you are returning to a familiar place, keeping your dog on a lead when away from home is key to safety. 
Thinking of choosing a coastal retreat? Reports show a year upon year rise of pet-related accidents by the water and clifftops due to dogs being let off their leads. The RNLI advise when taking any dog on a coastal walk to keep on a lead at all times to ensure the safety of yourself, your pet and others.
So, with many of us heading out for another Staycation this Summer, follow our handy hints of everything you need to pack for your pooch when on holiday.