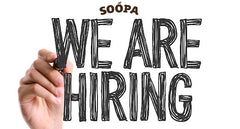 Join our Soopa team as a
Digital Marketing Specialist!
We need an enthusiastic candidate who can develop and execute SEO and paid advertising strategies to accelerate website traffic, lead generation, and revenue growth. Candidates should possess a strong understanding of SEO, paid marketing platforms, Google, and data analytics.
This job works closely with our Social Media Manager and calls for a mix of technical savvy, creativity, and strategic vision. Graduates are welcome to apply, and we're ready for the perfect candidate to complete our team.
Skills and Abilities Required:
Understanding of SEO and paid marketing platforms, tools, and best practices
Proven success with Google Analytics, AdWords, and other analytics tools
Experience as SEO/paid marketing specialist or similar role
Excellent analytical skills and the ability to interpret data.
Strong project management skills and ability to manage multiple campaigns simultaneously.
Additional marketing and rebranding experience is a plus.
Excellent communication and interpersonal skills
Manage Shopify Account:

 

Maintain and improve our Shopify catalogue, subscriptions, product and landing pages, third-party applications and website performance.
Channel management & reporting – you will be responsible for producing weekly sales, marketing and KPI reports
Required:
Experience with SEO, paid marketing, Google Analytics
Social media paid advertising Instagram/Facebook/Tik Tok/You Tube
Proficient with Shopify/Omnisend or other E-commerce platforms
Confident in budgeting & forecasting
Passion for dogs, plant-based and digital marketing
Desired:
2-3 years in paid marketing role
Marketing/Rebranding experience in a professional role
Salary & Benefits
Competitive salary based on level of experience.
Work from home or hot desk options.
Flexible hours
Option to volunteer at a local animal rescue
To apply for this role, please send your Covering Letter and CV to Abbie at marketing@soopapets.com