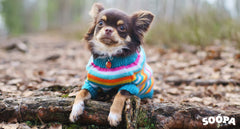 We all may have noticed the temperatures plummet across the country during the past couple of weeks. As wild winds and stormy showers spread throughout Britain, the thought of leaving our comfy couches and braving the ghastly gales with our four-legged friends can wash over us with dread.
However, as our pets mean the world to us, we grab our parkas, wrap our scarves around us and venture out into the icy cold to ensure our pets get the quality time they deserve. But just like us, our pets need the same protection from the cold and rain as we do. From soft sweaters to cosy coats, here are our handy hints about keeping your dog warm and cosy this winter.
Choose a Coat
From pawfect parkas to ravishing rainwear, kitting your dog out in a winter coat has never been more important. Protecting their core region from the cold, a jacket will provide your pooch with the safety and comfort they need to stay warm in the winter weather. Often containing reflective material, a coat is ideal for increasing visibility when rain, fog and darkness begin to set in.
You can find a coat for your pet in any major retailer. We always recommend measuring your pet or fitting the coat before purchase as an ill-fitting coat won't provide your pet with the benefits it can offer.
Create a Cosy Corner
Like us humans our dogs love being snuggly and warm. As the cold sets in and our houses become desperate for radiators and log burning fires, create a cosy corner for your four-legged friend to stay snuggly when the winter chills set in.
Unlike us, our dogs are unable to 'throw on a jumper' so it is up to us to keep them safe and warm. Fleece bedding and fluffy pillows are an ideal treat for your dog in the winter ensuring they keep those running noses and sneezes at bay.
Pet Booties
It would be impossible to find any human that likes the feeling of soggy toes after getting caught in the rain. Well…this is the same for our pets. With stormy showers bashing down upon us causing muddy paws all winter long, keeping your pets paw pads safe is just as important as ever. As some paw pad infections deriving from soggy uncleaned skin, ensuring your pets paws are in tip top condition has never been easier.
Pet boots/shoes are now hitting the pet market providing your furry friend with paw comfort no matter where they are walking. Available for under £20, these boots will keep their toes cosy and warm whatever the weather.
So no matter what the weather, keep your four-legged friend safe and warm this wondrous winter.