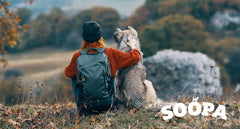 As a dog owner, it can be challenging to leave your furry friend behind when you want to go on a trip or vacation. Luckily, more and more destinations and activities are becoming pet-friendly, allowing you to bring your pup along for the adventure. However, travelling with your dog requires some preparation and planning to ensure a safe and enjoyable experience for everyone involved. In this blog post, we will provide some tips for travelling with your dog and suggest some pet-friendly destinations you might want to explore. And to make the trip even more enjoyable for your pup, we highly recommend taking along some Soopa treats.


Plan ahead and research pet-friendly destinations: Before you hit the road with your dog, take some time to research pet-friendly destinations and accommodations. Some hotels have pet policies that restrict the size or breed of dogs, while others welcome all kinds of furry friends. Also, be sure to check if the destination has any dog-friendly activities or parks. National Parks, hiking trails, and outdoor cafes are typically pet-friendly but double-check before you go.

Pack the essentials: When travelling with a dog, it's essential to bring all the necessary gear and supplies. This includes a leash, collar, poop bags, food, water, toys, and any medications your dog might need. Also, consider packing a travel bed or mat to keep your dog comfortable and help them feel at home in unfamiliar surroundings.

Prepare your dog for the trip: Depending on your dog's personality and habits, travelling can be stressful or exciting for them. To prepare your dog for the trip, take them on short car rides before embarking on a more extended adventure. This will help them get used to travelling and reduce the risk of motion sickness. Also, make sure your dog is up-to-date on all their vaccinations, and bring copies of their health records in case of an emergency.


Be considerate of others: While you may love your dog, not everyone feels the same way. When travelling with your pup, be considerate of others and follow the rules and guidelines set by pet-friendly accommodations, parks, and activities. Always clean up after your dog and keep them on a leash in areas that require it. Also, avoid leaving your dog alone and unattended in hotel rooms or vehicles.

Reward your pup with Soopa treats: Traveling can be tiring, both for you and your dog. To make the trip more enjoyable for your furry friend, we suggest taking along some Soopa treats. Our treats are made from 100% natural ingredients and come in delicious flavours like sweet potato and cranberry, coconut and chia, and kale and apple. Not only do they taste great, but they also provide numerous health benefits for your dog, including fresh breath, healthy skin and coat, and improved digestion.

Travelling with your dog can be a fun and rewarding experience if done correctly. By following the tips we provided and doing some research ahead of time, you can ensure a safe and enjoyable trip for both you and your furry friend. And don't forget to pack some Soopa treats to reward your pup for being a great travel companion. Safe travels!