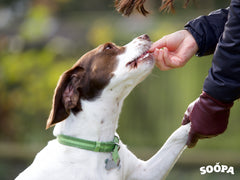 When it comes to training your new set of furry paws, finding some tasty treats can help reinforce those commands and get your furry friend doing exactly what you need them to. Here at Soopa, we understand the importance of rewarding your dog when their behavior is positive, but training treats can have negative effects if they are packed with high-fat ingredients unbeneficial to your new puppy.
Made with human-grade ingredients and lovingly low-in-fat, our range of healthy treats are the ideal training tool and will ensure your puppy's training is rewarded in the most scrumptious way leaving your four-legged friend pawing for more.
Reinforce & Reward
During the first stages of your puppy's development, they are learning how to behave in their special new home. Despite the need for puppy pawfection, accidents will happen and are normal in every puppy parent's time of training their new dog in the home. One of the most important tools in training your puppy is patience. We would never encourage or recommend negative reinforcement as this can lead to anxious and stress-induced behaviour in your furry friend.
When training your puppy to follow your voice, go to the bathroom or walk on a lead, we highly recommend reinforcing positive behaviour with treats. As your puppy completes a task, such as peeing outside for the first time, raise your voice (in a positive way, reward them with a tasty treat and even give them lots of love). This positive behaviour will ingrain that when they do something good, they will get rewarded in the tastiest and most loving way.
Happy & Healthy
As advocates for the benefits of plant-based ingredients in our dog's diet, none of our tasty training treats contain meat or meat derivatives. Made with 100% plant-based ingredients, our scrumptious snacks are low-in-fat, containing only 3 calories pet treat - ideal for any growing pup.
In a wide variety of fabulous flavours, your pup is spoilt for choice when it comes to training treats with Soopa. One flavour in which we are most proud of is our Kale & Apple Healthy Bites. Nominated for an award for the Best Plant Based Product for Pets by Ocado, our blissful bites of healthy goodness are a treat to keep your puppy's tail wagging all day long.
Packed with immune boosting powers and amazing antioxidants, Soopa bites are great for supporting your dog's skin and coat whilst freshening their breath and keeping teeth sparkling clean. 
So if you're stuck on what treats to use to support your puppies training, grab a hold of our healthy bites and keep your pup happy and wholesome this Summer.