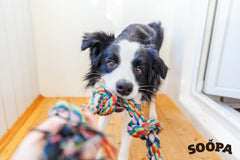 After months of a national lockdown, many of us are venturing back into the great outdoors to keep ourselves and our dogs as active as ever. From woodland walks to coastal clambers, keeping our dogs as active as possible is one of the best ways of maintaining their health and wellbeing.
For our pets, their precious walkies time is not just beneficial for their health as it can aid in weight management and cardiovascular health, it is also significant in maintaining a secure bond with their owner. Playing fetch and exploring the great outdoors is a fundamental part of a human and canine bond and without those experiences they simply wouldn't be our best friends.
So with summer slowing coming to a close and autumn approaching, here's our top tips for staying active and enjoying quality time with your four-legged friend.
Fancy some Fetch?
We all know how much our dogs love to play fetch. Whether it be a stick or ball, our furry friends go mad for this glorious game. Not only does it support our dog's cardiovascular activity from the repetitive running, it also establishes a beautiful bond between you and your dog.
Our dogs have a natural need to please. For them, Fetch has a two-fold reward. When we throw the item, our pets receive a boost when they retrieve it but the reaction we give them on completion provides them with a warm fuzzy feeling that they just adore and keeps their tails wagging time and time again.
If you dog is not a fan of fetch but you wish to increase their exercise, perhaps have a go at throwing their favourite ball in an outdoor space and encourage retrieval with a treat. Once your dog realises they are gaining positivity for the action, they will chase after that ball all day long.
Walk on the Wild Side
For all you wild walkers out there, sometimes there is no better exercise than a wonderful walk in the great outdoors. However, to ramp up your adventures with your four-legged friend try and explore somewhere new to increase activity and excitement in your poochie pal.
Woodland walks and coastal paths offer various terrain that can be beneficial to yours and your dog's cardiovascular activity. Rambling upon crags, rocks, and intertwining amongst the trees works several different muscle groups than a regular walk down the street.
With outstanding areas of natural beauty located throughout the UK, there is abundance of choice when it comes to taking a walk in the wild with your canine companion.
Play with a Puzzle
As storms brew throughout the country, when wild weather sets in, it's more than difficult to plan any activity with our furry friends. From torrential rain to miserable mud, sometimes even our dogs would prefer staying warm and dry in our cosy homes.
However, at Soopa, not even the weather can stop our dogs from having a fun playtime so for when wild weather sets in or the streets are too hot for precious paws, trying a puzzle toy with your dog can keep their furry minds occupied for hours.
Dispensing treats when solved, these pesky puzzles are great for dogs on weight management plans who wish to become more active even during treat time. With a great range of puzzle toys to choose from, find your local pet store who we guarantee will have some in stock. Combining play time with tasty treats, there really is nothing better when the inside is the better place to be. Best of all Soopa healthy bites are only 3 calories each so you can fed worry free! 
For our dogs, there is really no time they enjoy more than the time they spend with us. So grab their leads, their fetch toys, get outside and watch your best friend's tail wag all day long.