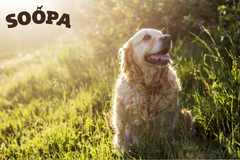 Throughout their development, the love, care and support we provide our four-legged friends ensures they live a long and happy life. As puppies, we fill up their bellies with the best food and treats so they enter maturity in the best condition but do we do the same when it comes to our senior dogs? 
For medium-sized dogs, they are categorised as senior when they hit 10 years of age. For larger breeds, this timeline reduces where they become senior around 5 to 8 years of age. As our dogs develop and mature into golden oldies, we need to provide a little extra TLC to ensure our pets live the remaining years of their lives in happiness, full health and comfort. So, with a business dedicated to supporting all ages of dogs with their dietary needs, here's why our new little adventure is pawfect for the senior dog in your home. 
Dental Sticks: Best Way to Support Senior Dogs
After launching our Banana & Pumpkin Puppy selection of scrumptious snacks last year, we decided that we wanted to create a product suitely solely for our senior dogs. Despite their ancestral needs to chew and chomp, our dog's teeth are less likely to require hard and durable chews therefore our specifically designed chews are softer, tastier and easier to digest than other dental sticks. 
Keeping your dog's teeth in check throughout their life is vital to their overall health as leaving their teeth to build up nasty plaque and tartar can result in an unpleasant and costly trip to the vet. Needing just as much oral support as our puppies, our Banana & Pumpkin Senior Dog Dental Sticks are the pawfect reward for your golden oldie. 
Best Benefits of Senior Dog Treats
With added flaxseed, this amazing addition to your pooch's dental sticks helps naturally boost your dog's energy levels - great for senior dogs who feel a little less active as the years go on. 
Loaded with 100% natural and human grade bananas and pumpkin, this combination of root vegetables to fruit helps support their immune system helping to keep nasty bugs and bacteria at bay. 
The magic ingredient featured in these delightful dental sticks is…Coconut Oil. A superfood rich in MCTs (basically, fats with superpowers that can support your dog's health). Studies have shown that Coconut Oil, which is rich in MCTs, helps to improve brain power and weight loss in our furry friends meaning our treats are beyond soopa for golden oldies who may have put on a little extra weight since their younger years. 
Support with Soopapower
Created to support senior dogs of all ages, breeds and sizes. No matter how old or what size your dog is, our delicious dental sticks are the pawfect reward for your senior dog. Developed and designed with your senior dog in mind, getting their paws on a little extra TLC is easier than ever before. Without the need of artificial supplements, purchasing our delicious dental sticks can help give your senior dog a boost they need to keep them feeling as happy and healthy as ever before.