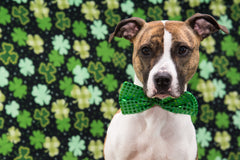 As one of the most celebrated dates in our Irish calendar is just weeks away, many of us are preparing for a slightly different St Patrick's this year. Unable to see our close ones and celebrate the joys and pride of our patron saint, adding a little St Patrick's pride is possible with your pooch by your side.
Here at Soopa, we pride ourselves on creating tasty treats that are not only natural but nutritionally beneficial for our four-legged friends. Each and every ingredient chosen, is selection because they are bursting with benefits to help support your dog's overall health and wellbeing. So with St Patrick's Day just around the corner, here's why our green veggie inspired treats are pawfect for your dog this spring.
Our Healthy Bites
Completely grain-free and loaded with the finest human-grade fruit and veggies, our healthy bites are the ideal snack for your furry friend at home or even on-the-go. Containing only 3 calories per bite, these tasty treats are pawfect for dogs on weight management plans or dogs prone to obesity.
Their gloriously green colour is created from the kale and apple used in their ravishing recipe. Packed with those lushy leafy greens and juicy green apple, these blissful bites are suitable for any breed, age or size of pooch loaded with all the nutrition and flavour your dog's need in a tasty treat this spring.
Grab those Glorious Greens
Our combination of kale, apple and kelp ensure your pooch gains all the glorious goodness of those glorious greens in each and every mouthful of our healthy bite snacks. Known as the 'Queen of the Greens", Kale is packed with pawfuls of immune boosting support to keep your dog's body fighting fit each and every day. Loaded with important nutrients such as iron, kale can help keep your dog's cardiovascular system in tip top shape.
Kelp is significantly nutrient dense and packed with Omega oils that help maintain your dog's coat and skin keeping their fur as glossy and shiny as ever before. Packed with Vitamin C, Green Apple can help boost your dog's immune system and acts as a natural breath freshener eliminating any stinky smells created through the day.
So as Ireland turns a little greener this March 17th, give your dog a taste of the green goodness packed into our healthy bites. Made right here on our Irish island, there's nothing more pawfect that purchasing a pack of our scrumptious snacks this St Patrick's Day.