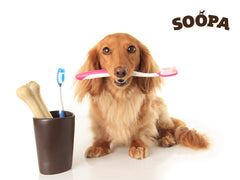 Like us humans, maintaining our dog's oral hygiene is a massive part of their overall health and wellbeing. Cleaning their teeth and gums on a regular basis can prevent dental issues later on in life and help keep costly vets at bay giving your dog the best quality of life possible.
From dental chews to regular brushing, there are many ways in which you can help keep your dog's oral hygiene in tip top shape. Here at Soopa, we understand the importance of dental care so much - we decided to create a range of treats suited to the very cause because when it comes to delicious doggy treats, there are no better than ones with a difference.
As oral explorers, our dogs are exposed to millions of bacteria every single day. Regular brushing and maintenance of teeth and gums can help prevent the same pesky problems our own teeth face throughout our lives. From removing plaque and troublesome tartar, here's all the amazing ways keeping an eye on your dog's teeth can help your pooch's mouth stay in the best shape possible.
A Brush a Day
As part of our daily routines, brushing our teeth twice a day has always been recommended by professionals as the best way of keeping our teeth clean and healthy. Just like us, vets advise regularly brushing your dog's teeth to help fight plaque and tartar build up. Through constant build up of bacteria, that hard and brown substance found on dog's teeth is tartar and can inevitably lead to gum problems and even tooth decay later on in life.
Using specially formulated pet toothpaste (never use human toothpaste as fluoride can be troublesome for tummies) and doggy toothbrushes on a regular basis can help keep those bad bacteria at bay and keep your dog's teeth and mouth looking and smelling as clean as ever.
It is recommended to begin brushing your dog's teeth at the puppy stage to help prevent problems with this task later on in your dog's life. Rewarding your puppy with a healthy treat after brushing will help prevent anxiety when you get the brush out and can eradicate stressful behaviour if your dog needs their teeth brushing.
Delicious Dental Sticks
For those in between brush days, there is nothing more we recommend than a doggy dental stick. Specially created with ingredients such as fennel, mint and 
apple, these dental sticks help by pushing lodged food pieces that may be stuck in your dog's teeth and shaped to massage the gum line to aid in the prevention of gum disease such as gingivitis.
As one of our best-selling products for our pooches, our range of dental sticks are made with the finest human grade ingredients and suited for all breeds and sizes of dogs. From Peanut Butter & Banana to Coconut & Chia Seed, the possibilities are endless when it comes to flavours here at Soopa. Combining superfoods and beautiful botanicals, dental sticks are guaranteed to freshen breath and clean teeth when your pooch is simply not in the mood to have those pawfect peggies brushed.
With a scrumptious selection of tooth-friendly treats here at Soopa, give your pooch the pawfect way to keep those pearly whites staying white.