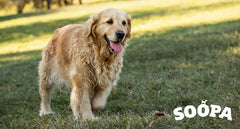 Just like us humans, as our four-legged friends grow older they require a little extra TLC in their daily lives. After years of frolicking fun, our dogs are often prone to ailments and illness such as digestive issues and arthritis that can be aided with supplements and additions to their regular bowls of grub.
However, with older dogs often unable to stay as active as their younger counterparts, weight gain is common in our golden oldies and can lead to complications in their cardiovascular, muscle and joint health if intervention is not undergone. At Soopa, we understand the importance of caring for our older canines, so with a range of scrumptious snacks available to support your Golden Oldie, here's why our treats are the best choice for your aging pup.
Low-in-Fat
There really is nothing better than a treat that is both tasty and good for us. Every single one of our healthy bites and dental sticks are made with 100% human-grade ingredients that are low-in-fat and packed with pawfulls of nutrition to keep your dog's body in tip top shape. Often losing levels of strenuous exercise as they age, our dogs are prone to weight gain meaning we must keep a watchful eye on their daily diets and treats. Our range of Healthy Bites contain less than 4 calories per bite meaning your Golden Oldie can enjoy a range of fantastic flavours without the need or worry of piling on any extra pounds in the process.
Soft and Scrumptious
To help support your senior dog's oral health, our fruit-based dental treats are soft and easily chewable making them a snack your senior dog will love time and time again. Kind on teeth and tummies, our sweet potato and papaya chews are packed with teeth loving properties to keep your dog's nashers clean and fresh all day long.
In addition to our fantastic fruity chews, our brand-new selection of pawfect puppy treats are also a great treat for your senior dog too. These low-fat and easily digestible sticks are kind on tummies and tasty on tongues making them a superb snack for in-between brush times. Combining the brilliant immune boosting benefits of pumpkin with the soft and flavoursome taste of banana, these superfood sticks really will be your dog's favourite treat.
Treat with a Difference
What makes our selection of snacks so SOOPA is that nothing but 100% natural and wholesome ingredients go into each and every bite, chew and dental stick we make. Made with human-grade fruit and vegetables, our plant-based treats are exactly what your senior dog needs to stay wholesome and happy in-between mealtimes. So no matter how golden your delightful dog might be, treat them to something different and watch their tails wag – just as they did when you first brought them home.