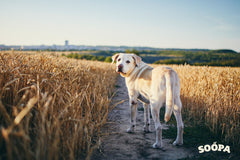 Over the recent weeks, an increasing number of reports are showcasing the dangers of walking your dog in the great outdoors. Posing threats to farm animals and livestock, a lack of vigilance when out and about with your four-legged friend can lead to illness and fatality in animals in and around our beautiful countryside.
We all know the importance of being vigilant when adventuring with our canine companions. With advice in place to keep both our animals and ones on farms as safe as possible, here's everything you need to know about taking a little extra care when exploring the wild with our furry friends.
Love their Leads
When nearby roads or protected areas, many of us naturally attached our dogs to their leads. This impulse not only keeps our dogs safe but also prevents any harm coming to those around them if our dog's bolt due to fear or anxiety.
If you and your dog are wilderness explorers and love a good ramble in the British countryside, we highly recommend keeping your dog on a lead when passing livestock such as sheep, cattle and even horses. With instincts to hunt and chase, our dogs unnecessarily can cause harm to livestock when they approach them unexpectedly. It is actually an offence for a dog to cause harm to livestock and by law, farm owners can take measures to remove a dog from their field so prevention is most definitely better than harm being caused to both animals in question.
Just attaching your dog to a lead when livestock is present can help save you, your dog and nearby animals from any danger meaning your walk and their day is just as blissful as scenery around you.
Safety in Spring
With the end of February brings the bloom of spring and vital time in the agricultural calendar. As lambing season sparks around March and April, calves are more susceptible to the dangers of dogs who are left to roam free around the countryside.
If your regular ramble takes place by a nearby farm, we suggest keeping your dog on a lead or taking a different route during these particular months. Vital in the farming industry, lambing not only is beneficial for humans but also to our dogs. Used in both their food and treats, increased harm to luscious lambs can prevent the incredible ingredient being used in dog food altogether meaning your pooch won't get the taste of what our brilliant British produce has to offer.
Pick up their Poop
It goes without saying about the importance of cleaning up your dog's mess when out and about. Posing hazardous to grazing animals such as horses, cattle or sheep, your dog's poop can contribute to the spread of disease across livestock in the countryside.
Your dog's poop, despite even the healthiest of diets, can spread bacteria and parasites, such as worms, to sheep so it is fundamental you clean up after your dog when exploring the great outdoors.
Just as important as our four-legged friends, our British livestock is a fundamental part of our amazing agriculture. Keeping all animals safe is vital and follow our handy hints to have a SOOPA day in the countryside with your canine companion.