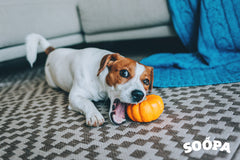 As one of the most superb stars of autumn, there is no veggie that we adore more than the Pumpkin. Placed in windows and gardens throughout October, this bright orange fleshy veggie really is what this season is all about.
Packed with a plethora of health benefits to keep the bodies of our four-legged friends in tip top shape, Pumpkin are loaded with enough tasty and hearty goodness to ensure bellies are full and tails are wagging all day long. With both our bite-sized treats and dental sticks crammed with this super veggie, here's why Pumpkin is pawfect for your four-legged friend.
The Benefits of Pumpkin
When it comes to our 5 a day, there is none more significant than the root vegetable. From carrots to parsnips, butternut squash to pumpkin, these vital veggies are loaded with enough Vitamin C to keep our bodies running like clockwork all year long. Providing both a tasty treat and nutritional boost for our four-legged friends, Pumpkin is packed with a whole heap of hearty natural goodness that your dog will love time and time again.
Boosting their immune system, eye health, skin and digestion, just a small portion of pumpkin a day can really give your pooch some vital vitamins and nutrition to keep their tails wagging all day long. Given raw, boiled or roasted, your furry friend will adore this autumnal vegetable even when Halloween has been and gone. And to make picking pumpkin even easier than ever, we've even loaded it into our favourite treats to save you the hassle of dicing away at its tough and fleshy skin.
Our Pumpkin Treats
Here at Soopa, we love nothing more than cramming the finest British ingredients into treats for your furry friend. With all our dental sticks and treats loaded with human grade fruit and vegetables, our grain-free Soopa snacks are everything your dog needs to have a wholesome and happy diet.
Our Carrot & Pumpkin Dental Sticks are a hypoallergenic grain free treat for the dog that loves to chew. Keeping both their teeth clean and breath fresh, this pawfectly pumpkin based treat is combined with Coconut Oil to boost your dog's brain power keeping them fitter and active for longer. Ideal for those new to Pumpkin and those in-between brush days, these Vitamin C packed chews are great for chomptastic chewers and dogs that shy away from getting their knashers cleaned.
Great for training, our Carrot & Pumpkin Healthy Bites feature the same incredible ingredients as our dental sticks and with only 3 calories per bite they make the perfect low fat training treat! These small, bite-sized snacks are great for treats on the go and superb for rewarding our furry friend. Created in a handy pocket pouch, once used they can be resealed for pumpkin perfection time and time again.
So as Halloween fast approaches and pumpkins fill those supermarket shelves, invest in this scrumptious squash today and experience no tricks, just treats this Halloween.