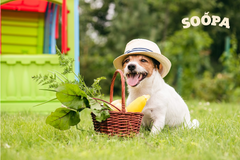 With veganism and vegetarianism lifestyles on the rise, many of us are opting for a diet a little more meatless than ever before. Choosing to indulge in the produce that Mother Nature has provided has not just become beneficial to us humans but is actually proving a popular choice amongst dog owners across the world. 
Containing zero meat-based ingredients, our range of Soopa treats are packed with pawfuls of delicious fruit and vegetables designed to give your four-legged friends a healthy dose of vital vitamins and minerals to keep their tails wagging each and every day long. From tropical fruits to vibrant veggies, our chews and treats are both Soopa for their taste buds and Soopa for their health and wellbeing. 
Blissful Benefits
Throughout our lives, we are constantly told to eat more fruit and vegetables. With worldwide campaigns about consuming our "5 a day", it would be hard to escape the benefits these ground grown goodies have to offer. 
Stuffed with nutritional benefits, whether it is fruit or vegetables, each has its own special power to keep our bodies in the best condition possible. Despite being natural carnivores, research has proven that encouraging your furry friend to consume veggies in the same amount can have wondrous effects for their overall health. 
With the likes of cranberries and kale offering super anti-oxidant powers for our furry friends, keeping their immune systems in tip top shape, it would be stupid to not have made them a key feature in some of our best-selling chews and treats. 
For dogs on diets consisting mainly of grains and proteins, plant-based treats can ensure your canine companion gets a well-rounded and nutritionally balanced diet without adding any unnecessary supplements to their daily dinners. 
Our Tasty Treats
Here at Soopa, we stand firmly behind the benefits of plant-based treats for our furry friends. Dense in nutritional support and great for their physical and oral health, our Soopa selection of scrumptious snacks are certainly a treat with a difference. 
Completely grain-free and low in fat, our healthy bites can be given to dogs from 6 months old making them a terrific training treat for new paws in your home. With a range of fantastic flavours, made with 100% natural human grade ingredients, our range of tasty treats are the ideal snack for any furry friend out there. 
Flavours include:
With protein intolerance and allergies on the rise in our furry friends, why not give them a try of our plant-based treats today and see how Mother Nature's very own can make a difference to your dog's day.