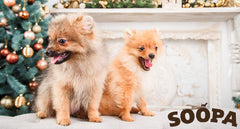 As the yuletide season sneaks around the corner, there is one incredible item that appears on many of our Christmas lists every single year - a puppy. 
Welcoming a new addition into your home on Christmas Day is often the dream for children and adults across the world but if the hopes for four small paws are on your wishlist this year, we want to encourage you to do something a little bit more magical this Christmas. 
Instead of visiting a breeder or scouring the web for the perfect puppy (we promise you, one such thing does not exist) how about visiting your local animal shelter or rescue centre and give a gift of love to something small and furry this Christmas. 
Benefits of Adoption
Here at Soopa, we understand the importance of caring for all canines, no matter what breed, size or age. Working closely with The Dogs Trust to raise awareness and showcase the beautiful, incredible and amazing dogs they have in their care, there really is no better time to give a little more to a four-legged friend than at Christmas. 
Providing a loving home, comfort and a family to a dog this December can really change their life for the better and we can certainly promise it will do the same to you too! Often with just a small adoption fee, your new furry friend will be all ready to venture to their new home and family ready for a life of unconditional love and care. 
Not just a Puppy
Throughout and after lockdown, many of us realised just how important a furry friend could be. Keeping us sane during times of isolation and loneliness, the phrase "a dog's not just for Christmas" resonated throughout us all. However, with lockdown, an increase in puppy purchasing and adoption stormed the UK leaving many older dogs in shelters and rescue centres firmly at the back of the queue. 
Adopting an older dog has benefits that outweigh many others. Already trained, knowledgeable and calm, bringing home an older pooch this Christmas won't just change your life but will change their remaining years forever. Hoping to spend the rest of their life in a loving, welcoming and well-cared for home is all our Golden Oldies dream of and a dream you can make come true this December. Without the need to toilet train, initially vaccinate or spay, adopting an older dog really can make yours and their life that ever so magical.
So, if a furry friend is on your list this Christmas. Give a little love to someone in need and consider adopting a canine companion to share your turkey and treats with this festive season.