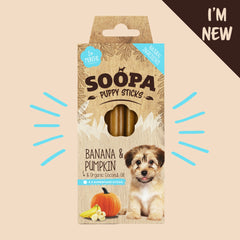 Like us humans, our dogs need to take care of their teeth. As their mouths are exposed to germs through play and eating, maintaining their oral hygiene can help prevent problems with their peggies later on in life.
However, as many of us know, brushing our dog's teeth can be a troublesome task. With many dogs refusing to let the brush go anywhere near their nashers brush times can be stressful beyond belief. Introducing toothbrushing to your puppy from a young age can help alleviate stress and anxiety about dental care later on in life. Starting brushing your puppies teeth from 8 weeks onwards can help benefit both their behaviour and their overall oral hygiene as they grow older keeping their pearly whites as pawfect as ever.
Pawsitives of Protection
During their lives, dogs are exposed to a whole range of germs in and around their mouths. As our dogs use their mouths to play, eat and communicate, keeping their oral hygiene in tip top shape can help prevent problems such as gum disease and even tooth loss.
Regular brushing or even dental sticks can help keep nasty plaque and tartar at bay and keep gums looking and feeling as fresh as ever. Failing to keep on top of your dog's dental care can lead to stinky breath meaning less kisses and cuddles in the long run...and no one wants that. Dental sticks are a fantastic way to clean and maintain your dog's teeth in-between those vital brush times and work by cleaning and massaging gum lines to keep their teeth looking as terrific as ever.
Here at Soopa, we understand the importance of dental hygiene for our dogs. With our existing range of chews created to help keep dogs' teeth in tip top shape, we decided to create some puptastic chews specifically for the nashers of those younger pups.
Made with 100% natural banana and pumpkin, these superfood sticks are the ideal treat to keep your pup's teeth looking and smelling as clean as ever. Suitable for pups over 3 months old, these low-fat and easily digestible sticks are kind on tummies and tasty on tongues making them a superb snack for in-between brush times.
Combining the brilliant immune boosting benefits of pumpkin with the soft and flavoursome taste of banana, these superfood sticks really will be your pups favourite treat. Loaded with vital vitamins and minerals to support your pup's natural growth and development, not only are these dental sticks nutritionally beneficial but they are Soopa tasty too. Just simply cut in half and give your brand new puppy a tooth clean that is as easy as pumpkin pie.
Keeping on top of your dog's terrific teeth has never been easier with our superb selection of scrumptious dental sticks. Brand new and completely natural, these are exactly what you need to keep the tooth fairy at bay and their peggies looking pawfect all day long. Click here to buy now!