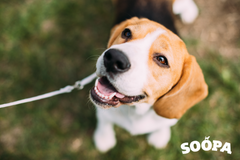 Just like us, we love to indulge in a treat if we know it isn't going to pile on the pounds. Packed with vital veggies and fantastic fruits, our range of chews and treats are scrumptious snacks that your dogs will love without worrying about them adding inches to their waist.
Here at Soopa, we are dedicated to created treats that are not just tasty beyond belief but are great for your dogs too. Loaded with wholesome goodness and free from nastiness, when it comes to low-fat tasty treats – we consider ourselves experts. From fruity chews to veggie healthy bites, Soopa's range of blissful bites are everything you need to keep your four-legged friend healthy and happy.
Why Low Fat?
Choosing treats for our four-legged friends can be a tricky task when shop shelves are filled with treats that promise to be packed with the most pawfect of proteins. Often, high-street brands of treats can actually be loaded with saturated fat that can inevitable contribute to obesity in our canines. Just like us humans, too much of the naughty stuff can help pile on the pounds leading to stress on our pet's joints and cardiovascular systems.
Keeping your pet's treats, both low-fat and wholesome ensures that if they have too much of the good stuff, they can chomp a little extra without the fear of them pilling on the pounds. With fantastic fruity pieces and lovely light bites, we have treats that are Soopa for your furry friend.
Grain-free and containing 100% natural fruit and vegetables, our Natural Dog Chews are a pawfect alternative to regular meat-based chews. As the only treats on the market that feature completely natural ingredients, these hypoallergenic treats are packed with enzymes that clean teeth, aid digestion and support a healthy body all year round.
Featuring 3 fantastic flavours: Coconut (great for skin & coat), Papaya (kind on sensitive tummies) and Sweet Potato (Helpful in digestion), these tasty treats are wholesome, all-natural and highly beneficial in your pet's nutrition. Suitable for any size or age dog out there, these fabulously fruity chews are a great addition to your dog's diet and provide your pooch with one of their five a day.
If there is a treat that your dog needs in their jar, it's Soopa's healthy bites. With only 3 calories per treat, these blissful bites of healthy goodness provide your dog with a mouthful and more of nutrition and taste.
 These grain free, hypo allergenic and low-fat treats and made from natural human grade ingredients making them an excellent tool to use for training. They come in a handy pocket friendly pillow pouch so you can use them on the go. In three fantastic flavours, these are one treat your dog will want time and time again.
Flavours include:
Fancy a guilt-free treat? Give your pooch a taste of what Soopa has to offer.